At this time there are no known biotin drug interactions where biotin would impact a drug's effectiveness. There does exist a potential for certain drugs to cause a biotin deficiency or insufficiency. These include antibiotics and seizure medications. Full biotin deficiency is rare because in healthy persons our intestinal bacteria produce it in excess of the body's daily requirements, which is only about 30-100 mcg. Antibiotics can kill both bad and good bacteria, so theoretically prolonged use may decrease our necessary intestinal bacteria, thus requiring all biotin needs to be supplied through diet or supplements.
Vitamin B7 (biotin) is very safe and is not known to interact with other medications, though certain drugs and other conditions can lower biotin levels in the body. People who use some antibiotics or seizure drugs, eat raw egg whites, are undergoing kidney dialysis, have genetic biotinidase deficiency, are pregnant, smoke or are fed by IVs that do not contain biotin, should ask their doctors if they should increase their vitamin B7 intake because of their greater risk for biotin deficiency.

Continue Learning about Vitamins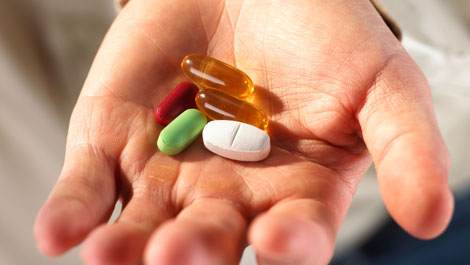 In the United States, the Food and Drug Administration (FDA) regulates vitamin supplements and provides recommended daily amount information. The FDA says that we should pay attention when considering vitamin supplements, because ...
frequently many different vitamins and minerals are combined into one product.
More