An abdominal crunch is an exercise to strengthen the abdomen by contracting it to flex your spine and pull your torso off the floor. To perform an abdominal crunch lie flat on the floor with your knees bent so that the soles of your feet are flat on the floor. Lie flat on your back with your head flat on the floor arms on your side palms down. To initiate the crunch, use your stomach muscles to pull your upper torso off the floor, continue to look straight up at the ceiling and pull your torso up far enough that your hands move 2-3 inches, then return to your beginning position.
An abdominal crunch tightens your abdominal muscles.
Lie down face-up on the floor or a mat, bending your knees but keeping your feet flat on the floor. Interlock your fingers behind the back of your head. (This helps support your head and neck).
Slowly lift your shoulders and head off the ground by gradually contracting your abdominal muscles. Your upper back need to come only 1 to 3 inches off the ground. Think of the shoulders doing the lifting, so don't use your hands to push the head up. Also, your chin should be slightly tucked in but should not touch your chest. (For the correct position, imagine holding an apple between your chin and chest).
Pause for a breath and then slowly return to the floor as you count to four. Repeat 12 times. Rest for a minute and then repeat 12 more times. (An advanced follow-up exercise would be to lift off the ground as described above, twist your body to the right so that your left shoulder is reaching toward the outside of your right knee, return to center, and slowly come back down to the ground. Repeat, twisting to the left).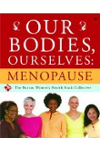 More About this Book
Our Bodies, Ourselves: Menopause
FROM THE EDITORS OF THE CLASSIC "BIBLE OF WOMEN'S HEALTH," A TRUSTWORTHY, UP-TO-DATE GUIDE TO HELP EVERY WOMAN NAVIGATE THE MENOPAUSE TRANSITION For decades, millions of women have relied on Our...
Continue Learning about Fitness