If you feel you're too overweight to exercise, you should first consult your physician. Feeling too fat to exercise is much different than physically being unable to exercise. A GREAT place to start is in the swimming pool. It takes the weight off of your joints, and allows for improved blood circulation throughout the body. You will be able to control your resistance and intensity in the water much better than on dry land.


Absolutely not! Take my advice, it's never too late or too hard to get moving! Watch this video for more information!
No. One is never "too fat" to exercise. Just remember that obesity is a clinical condition and you must be sure that the intensity that you are working out is safe. Be sure that you get your blood pressure, glucose levels and your cholesterol levels checked to make sure that the right fitness program is tailored for you.
No matter how out of shape or overweight you are you can still exercise. Depending on your fitness level will depend on how much you will be able to do. Don't let the size of your body be your limitation or excuse why you can't exercise. Everyone must start from somewhere. Just do what your body can handle and week after week you will notice you will be able to do more each week. The hardest part is starting a exercise program but once you make it a routine and change your lifestyle it will be as natural as brushing your teeth. Keep positive and move forward.
There is no such thing as being too fat to exercise! Often we hear people in fitness centers say the phrase "I need to get in shape before I join the gym". This is absolutely not true. Many people believe exercise has to hurt or be tedious to be effective. Exercise is a matter of just moving more. It doesn't need to be difficult classes in the gym or excessive time spent lifting weights. Start small and work your way up to more challenge and volume in activity only when you're ready to do so.

We all need to start somewhere and a simple walking program can be very effective. Even just parking a little farther away from your destination or walking in place when you brush your teeth are simple ways to begin moving more. Pretty soon exercise will be a normal part of your routine.
After discussing it with your doctor to see why you are so fat and take the proper precautions, I then say NO. I have a chair DVD for those of us who can't get out of bed. If you want to lose fat there are plenty of FREE, no excuse ways to do it in the comfort of your own home. If you go to my sharecare home page I have uploaded multiple videos for you to do in the comfort of your own home.

Anyone can benefit from regular exercise. No matter how heavy you are, you can stillparticip[ate in a proper exercise program. Proper , meaning a balanced program that will take into account yur special needs. This will also hold true for a thin person that has other issues. Being heavier than you want to be has no bearing on your ability to work out.
No, although this is a common excuse used by many overweight individuals who do not exercise. The truth is, if you are overweight or obese, becoming more physically active is perhaps one of the best things you can do for yourself. However, it is recommended that you obtain a medical clearance from your physician before beginning an exercise program.

If you are new to exercise, start out slowly. Begin by walking 5-10 minutes a day, and then gradually increase the duration until you are able to walk 60 minutes each day. Choose activities such as walking, cycling, water aerobics, and resistance training exercises that avoid placing too much stress on your joints. Being overweight does increase stress on the joints, therefore it is very important that you do not try to do too much too soon to prevent developing an orthopaedic injury.

Participate in activities you enjoy, and exercise in a setting you feel comfortable in. This way you will be more likely to stick with your new exercise routine.

No, you can't be too fat to exercise. All people are eligible to exercise, and some might argue that people facing weight challenges are "extra-eligible." In other words, the calorie burning benefits of exercise (as well as many other benefits) can help people who are overweight and obese achieve healthy weight loss. Many studies, including the well published National Weight Control Registry (NWCR) demonstrate that exercise can help with weight loss, and it is exceptionally important to weight loss maintenance. That said, if someone if overweight or obese, they should consult with their health care provider about the types of exercise that are best, as well as work with a fitness professional to design a progressive program to support weight loss and increased fitness. Bottom line, moving is for EVERYONE.
That's an exercise myth! Every human requires some level of activity to stay healthy.
However, there are some precautions that excessively overweight people need to take to protect their joints and prevent injuries, when they are new to exercising. Starting with water aerobics is an excellent choice because water makes the standing moves more tolerable on their joints while they can benefit from a cardiovascular workout. Water walking can also be a good start for their resistant training.
Saying you're too overweight to exercise is like saying you're too skinny to eat.

Your body needs exercise just the way your body needs food. No matter how overweight you are, you can do something to start the process of losing fat, strengthening your bones, and relieving your joints of the load that they're carrying. If you're overweight or have other medical conditions, you should consult your doctor before starting any exercise program.

Start small: Walk 5 minutes day, and increase by 1 or 2 minutes every few days. Soon, you'll be fit enough to walk an hour a day. You can even start small with resistance training. Doing simple exercises with soup cans or books will stimulate your muscles in new ways-and begin the process of kick-starting your metabolism so your body can burn fat.

If you want to live longer, start today. Your family-and your younger body-will thank you.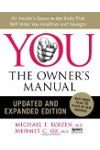 Continue Learning about Types Of Exercise