The instinct for spirituality is hardwired in us. This is our fourth instinct, the one beyond the instincts for survival, power, and sex. It is a genetically-based, physical instinct that has a metaphysical purpose. It is a natural hunger for supernatural sustenance. It propels us to find meaning and transcend our mundane selves.
Many now believe that spirituality has an evolutionary purpose. This is the thesis of The God Gene: How Faith Is Hardwired into Our Genes, by molecular biologist Dean Hamer. "Human spirituality," Hamer says, "has an innate genetic component to it. It doesn't mean that there's one gene that makes people believe in God, but it refers to the fact that humans inherit a predisposition to be spiritual -- to reach out and look for a higher being."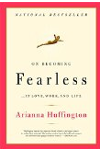 More About this Book
On Becoming Fearless...in Love, Work, and Life
Observing that her own teenage daughters were beginning to experience some of the same fears that had once burdened her--how attractive am I? do people like me? do I dare speak up?--Arianna...
Continue Learning about Spirituality and Religion