Without faith in a higher order and the existence of something outside ourselves and our everyday lives, life can become emotionally unbearable and filled with fear. And this anxiety, even if we're not aware of it, will surface in other parts of our lives. Many of us spend a large part of our lives barricading ourselves against the truth that the ultimate reality lies beyond ourselves. But freedom from fear cannot be found through the mind, only through the soul.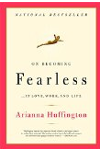 More About this Book
On Becoming Fearless...in Love, Work, and Life
Observing that her own teenage daughters were beginning to experience some of the same fears that had once burdened her--how attractive am I? do people like me? do I dare speak up?--Arianna...
Continue Learning about Spirituality and Religion