It is essential to properly support your neck at night. The key to relieving neck strain is to make sure your head, neck, and spine all remain in a straight line parallel to the plane of the bed. If you prefer sleeping on your back, use any regular-sized pillow that is comfortable and to your liking. It is important to get your entire neck onto and supported by the pillow. If your pillow is only supporting the back of your head, if it is too thick, or if you are using two pillows, your head and chin are probably being pushed forward, straining the tendons and ligaments of your neck. If your pillow is too thin, chances are the forward curve in your neck is not getting any support, and this will also result in unnecessary strain.

When you sleep on your side, the best way to support your head and neck is by taking a fairly thick but soft pillow, bunching it up, and then tucking it under your neck and head. Too thick a pillow will push your head to one side, and too thin a pillow will allow your head and neck to sway downward.

You can buy contoured pillows designed to position your neck, but they don't fit everyone exactly right, and they cannot be manipulated as you change positions. Any modestly thick and soft pillow that can conform to your preferred sleeping position will provide more than adequate and comfortable support.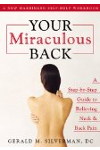 Continue Learning about Sleep Basics