Foods that are good sources of carbohydrates and protein include:
Dairy/dairy substitutes: cottage cheese, plain, nonfat or low-fat; mozzarella, part skim or nonfat; ricotta, part skim or nonfat; yogurt, plain Greek
Vegetables: beans (adzuki, black, cannelloni, edamame, garbanzo, kidney, lentil, lima, navy, mung, pinto), bean soups, hummus & bean dips, tofu (fresh, cube), soy or veggie burger, tempeh
Grains: amaranth; barley; basmati rice; bread, mixed whole-grain or 100% whole-rye; brown rice; buckwheat; bulgur (cracked wheat); crackers, whole-grain; millet; oats, whole; oatmeal, cooked; pasta, kamut; pita, whole-wheat; quinoa; teff; tortilla, whole-wheat; spelt; wild rice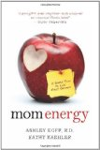 More About this Book
Mom Energy: A Simple Plan to Live Fully Charged
       From celebrated dietitian Ashley Koff and fitness trainer to the stars Kathy Kaehler comes Mom Energy, an exciting new way for moms to tap into their own natural and renewable sources of...
Foods that contain both carbohydrate and protein include some whole grain products such as quinoa; yogurt especially Greek yogurt; dried or canned beans; and soy products such as tofu and tempeh. Both carbohydrate and protein are important nutrients to include in your diet. Carbohydrates are the body's preferred source for energy. Protein is used by our body for growth and repairs of tissues; regulate body functions; as well as a source of energy. Both carbohydrate and protein provide 4 calories/gram.
Continue Learning about Nutrition