In popular media, menopause is often presented as a time of physical and mental degeneration that women dread. Women going through the transition are frequently portrayed as emotionally unstable and irrational—people who may break into tears for no reason, become angry without provocation, and seem &quotout of control" (all because of our hormones).
In reality, studies have shown that emotional changes are not a part of the menopause transition. The mood symptoms some women experience during the menopause transition do not appear to be caused by hormonal changes; they are far more likely to be linked to life stress, a history of depression, and health status at midlife.
Fears and anxieties about menopause can be created, exaggerated, or manipulated by drug companies, media pundits, and self-help gurus who focus attention on the potential problems associated with menopause (and the supposed solutions they are selling) rather than providing a balanced and accurate picture of women's real experiences.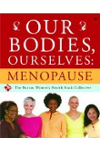 More About this Book
Our Bodies, Ourselves: Menopause
FROM THE EDITORS OF THE CLASSIC "BIBLE OF WOMEN'S HEALTH," A TRUSTWORTHY, UP-TO-DATE GUIDE TO HELP EVERY WOMAN NAVIGATE THE MENOPAUSE TRANSITION For decades, millions of women have relied on Our...
Continue Learning about Menopause