5 Ways to Lose Weight During Menopause
Even though your body is changing, there are proven ways to drop those unwanted pounds.
Medically reviewed in December 2020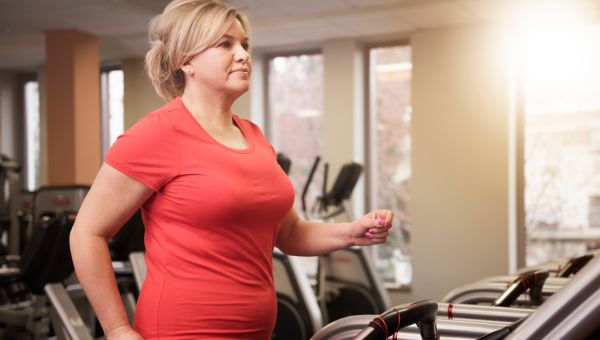 1 / 6
During menopause, it's common for people to deal with a number of symptoms, from hot flashes to night sweats to weight gain. While a shift in body temperature can be inconvenient and uncomfortable, carrying extra pounds has been linked to numerous chronic conditions, including diabetes, heart disease and cancer.
Lisa Ann Golik, MD, an OBGYN at Saint Agnes Medical Center in Fresno, California, explains that natural aging and hormonal changes are often to blame. "A decrease in estrogen and progesterone levels can predispose a woman to gaining weight in the abdominal area," she says. "Also with aging, there is a noted reduction in muscle mass and increase in fatty tissue mass." That's not all—your metabolism slows, and many people tend to be less active as they grow older, too.
With that in mind, here are effective strategies for preventing or losing belly fat once you hit menopause.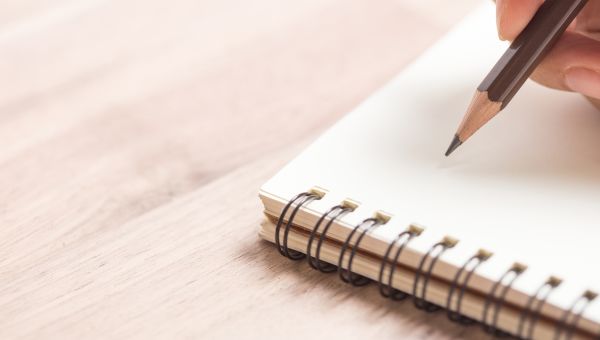 2 / 6
Keep A Log
Dr. Golik says that the first step to achieving a healthy weight is to honestly assess your diet and physical activity. "Write down what you do for exercise and what you eat in a day," she advises.
In fact, overweight and obese postmenopausal women who maintained a food journal lost more weight than those who didn't keep a journal, according to one 2012 study in the Journal of the Academy of Nutrition and Dietetics. On average, the journal-keepers dropped about 6 more pounds.
"You may find that there are extra calories finding their way into your diet that you didn't realize, and you may think that you are more active than you really are," adds Golik.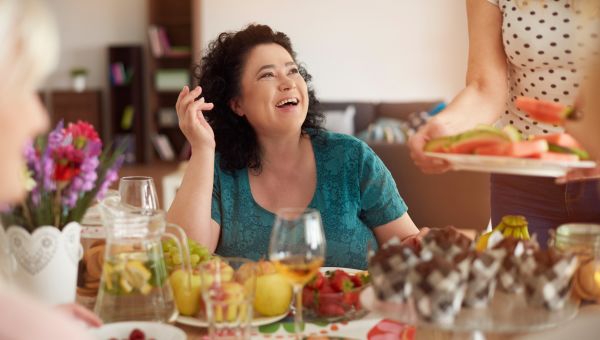 3 / 6
Tailor Your Diet
Medical experts continue to debate the ultimate eating plan for weight loss. But another 2012 study published in the Journal of the Academy of Nutrition and Dietetics drew a few compelling dietary conclusions for postmenopausal women.
To figure out the eating behaviors associated with long-term weight loss, medical researchers monitored 481 overweight postmenopausal women for four years. They found that consuming fewer desserts and sugar-sweetened beverages was linked to both weight loss and weight maintenance. Eating more fruits and vegetables and cutting down on meat and cheese was also connected with dropping pounds.
Whether you're trying to maintain your weight or slim down, try to consume a healthy, balanced diet consisting largely of fruit, vegetables, whole grains and lean protein. Remember to go easy on sodium, added sugars and saturated fats, and eliminate trans fats, as well.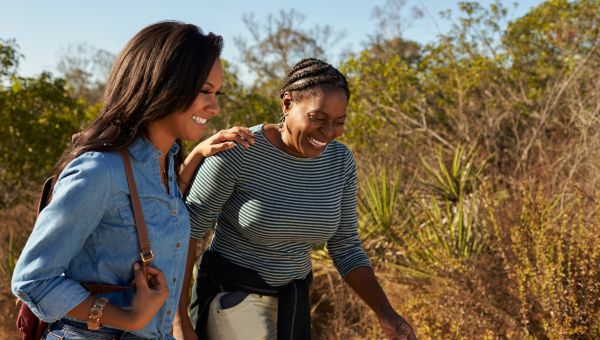 4 / 6
Schedule Activity Time
Make a calendar appointment on your smartphone to do something fitness-related, encourages Golik. "It doesn't have to be going to the gym," she says. "It could be taking a group exercise class in a park or walking with friends."
Even light exercise can affect your weight management big-time as you age. One 2015 study from the University of Massachusetts Amherst suggested that women who were more active had lower BMIs and other body composition measures, including those who did light physical activity like walking and yard work. The benefits were greater in postmenopausal women compared to those who were premenopausal.
Almost any regular physical activity helps improve overall health. But to drop pounds and keep them off, you should combine it with a strategy for healthy eating. 5 / 6
Go For H2O
Research on whether drinking more water leads to greater weight loss isn't conclusive. But in terms of a healthy diet, H2O is better than sugary beverages like soda and fruit juice. There's some suggestion that sipping a glass of water before breakfast, lunch and dinner may result in a smaller waistline, as well.
For one 2015 study in the journal Obesity, researchers gathered 84 obese adults and instructed half to drink about 17 ounces of water 30 minutes before mealtime. After the 12-week study concluded, the authors discovered those who pre-loaded before every meal lost 9.48 pounds on average. Volunteers who consumed water before one meal each day or did not pre-load dropped just 1.76 pounds.
It should be noted: People's water needs vary greatly depending on temperature and humidity, as well as their activity level and medical conditions. For some, drinking too much water can be dangerous. 6 / 6
Lean On Others
"If you need help, ask for it," advises Golik. "Find a friend who also is concerned about their health. Keep tabs on each other and support one another during the process."
You may want to try getting fit together. Exercising with a friend could lead to more workouts due to the emotional social support offered, suggests one 2015 study published in the British Journal of Health Psychology. "A fitness buddy will help you be more accountable," adds Golik. A buddy system can also work via videoconferencing if you're unable to see each other in person.
If no one in your inner circle is trying to slim down or enjoys exercise, a virtual weight loss counselor might do the trick. People who took part in an online weight intervention program were more likely to drop pounds and keep them off a year later than those who didn't receive the guidance, found one 2016 study in The Lancet Diabetes & Endocrinology.
Ask your healthcare provider about finding an online coach or digital forum that's right for you.
Sources:
American Society for Metabolic and Bariatric Surgery. "The Impact of Obesity on Your Body and Health." 2020. Accessed November 12, 2020.
A Kong, S Beresford, et al. "Self-monitoring and eating-related behaviors are associated with 12-month weight loss in postmenopausal overweight-to-obese women." Journal of the Academy of Nutrition and Dietetics. September 1, 2012. 112(9), 1428–1435.
BB Gibbs, LS Kinzel, et al. "Short- and Long-Term Eating Habit Modification Predicts Weight Change in Overweight, Postmenopausal Women: Results from the WOMAN Study." Journal of the Academy of Nutrition and Dietetics. September 1, 2012. Volume 12, Issue 9, pp1347-1355.
Centers for Disease Control and Prevention. "Physical Activity for a Healthy Weight." October 28, 2020. Accessed November 12, 2020.
Centers for Disease Control and Prevention. "Losing Weight." August 17, 2020. Accessed November 12, 2020.
"26th Annual Meeting of The North American Menopause Society September 30–October 3, 2015, Las Vegas, NV." Menopause. December 2015 - Volume 22 - Issue 12 - p 1361-1401.
HM Parretti, P Aveyard, et al. "Efficacy of water preloading before main meals as a strategy for weight loss in primary care patients with obesity: RCT." Obesity. 2015 Sep;23(9):1785-91.
P Rackow, U Scholz, R Hornung. "Received social support and exercising: An intervention study to test the enabling hypothesis." British Journal of Health Psychology. 2015 Nov;20(4):763-76.
P Little, B Stuart, et al. "An internet-based intervention with brief nurse support to manage obesity in primary care (POWeR+): a pragmatic, parallel-group, randomised controlled trial." The Lancet Diabetes & Endocrinology. October 1, 2016. Volume 4, Issue 10, pp821-828.
WomensHealth.gov. "Menopause and your health." September 21, 2018. Accessed December 18, 2020. Replay Slideshow