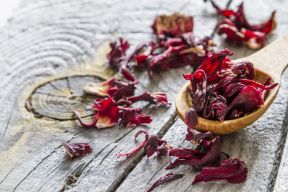 Tea brewed from lovely flower buds may help keep your blood pressure in check -- if those buds are hibiscus.
In a study, the hibiscus tea benefits (3 cups per day) included lowering systolic blood pressure by an average of seven points in people with prehypertension or mildly elevated blood pressure.
Happy News About Hibiscus
Assuming you don't load it up with sugar, brewed tea is one of the healthiest drinks around. And the hibiscus tea benefits, such as flavonoids and polyphenols, may be the reason for the blood-pressure-busting benefits observed in the study, which was funded jointly by the USDA and the tea industry. More research is needed to confirm the findings. But here's another great reason to drink up while we wait for the final word.
Know Your Numbers
Do you know your systolic blood pressure? You should. Blood pressure has one of the greatest impacts on your RealAge. Keeping your blood pressure at 115/76 mm Hg can make your RealAge as much as 12 years younger! Here's your blood pressure to-do list: