If you always have sex in the evening, right before turning in for the night, you may want to consider mixing things up a bit if you have erectile dysfunction. After all, do you really want to wait around for your package to perform? Instead, be up for jumping into the sack whenever your member is feeling extra frisky, morning, noon, or night. Not only will this provide more opportunity for sexy time, but the added spontaneity could give the both of you an extra libido boost.

And morning sex can be such a nice way to start your day. Because androgen levels are highest between 8 a.m. and 12 p.m., your desire should be at its peak. Afterward, you can shower together, holding onto that last bit of intimacy while also washing off the slickness of sex, and the grit of a long night's sleep.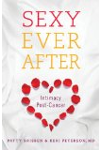 More About this Book
Sexy Ever After: Intimacy Post-Cancer
Recent studies show that 40-100 percent of men and women who have been treated for cancer have experienced some level of sexual dysfunction. Sexy Ever After: Intimacy Post-Cancer will help you...
You can always attempt to have sexual activity. If it is unsatisfactory for either partner, it may be worth seeing a primary care physician for evaluation. There are a number of medications that may be helpful. Sometimes referral to a urologist is an option for more difficult cases of erectile dysfunction (ED).
Continue Learning about Erectile Dysfunction