Not only is erectile dysfunction embarrassing, frequently the failure to have a full erection is frightening and brings on a host of psychological problems such as high anxiety, fear, and, in some cases, even depression. You may feel that you are no longer worthy as a husband or lover. Or, you may feel that you are now "over the hill," as so many men correlate increasing years with decreasing sexual function.
Sometimes being impotent can affect the pride you have in yourself. It can lead to decreased intimacy with your spouse or person you love. For many men, their entire self esteem is wrapped up in the ability to perform like a man in every way--including sexually. When you are alone with your spouse and are unable to perform, you immediately think to yourself, "I am a failure." Although you most likely had some failures before in life, being impotent may be the first hurdle that made you feel less of a man. This may be the first major ego-threatening problem you had to deal with.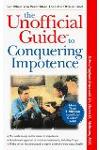 More About this Book
Unofficial Guide to Impotence
The Unofficial Guide to Conquering Impotence delivers the inside scoop on impotence: the truth about Viagra, what treatments really work, and how lifestyle changes can aid in conquering...
Continue Learning about Erectile Dysfunction