For some of the same reasons exercise is good for your heart, exercise is great for sexual function. Physiologically, erection is all about healthy blood flow, and men who exercise have been found to have 41 percent less erectile dysfunction than those who sit on the couch.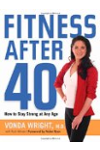 More About this Book
Fitness After 40: How to Stay Strong at Any Age
It's one of the undeniable facts of life. After we reach a certain age, our bodies change. No matter how fit we may have been at 20, we're very different people after 40. But growing older doesn't...
Continue Learning about Erectile Dysfunction Treatment