It sure can be. Most cases of erectile dysfunction (ED) have physical causes, and the most common ones are cardiovascular. Your blood needs to flow well, so your penis can get hard and stay that way long enough to have satisfying sex. The same cardiovascular problems that can lead to heart disease just might affect your penis first. These include high blood pressure and high blood cholesterol levels. Think of your penis as a health dipstick. It's your early warning system. If you are having problems with blood flow down below, it's a wakeup call to pay more attention to your cardiovascular health. See your doctor to check out your heart's health. It is certainly possible that your ED is the result of other causes, but a cardiovascular problem is the most common cause.
Men who develop erectile dysfuntion (ED) or impotence because of blood flow problems may have underlying heart disease even though they are not experiencing any other symptoms, according to some researchers. The findings of the link between ED and heart disease provide another important reason why men should undergo a thorough health examination rather than simply take medications to treat the impotency.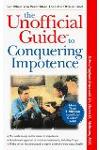 More About this Book
Unofficial Guide to Impotence
The Unofficial Guide to Conquering Impotence delivers the inside scoop on impotence: the truth about Viagra, what treatments really work, and how lifestyle changes can aid in conquering...
Erectile dysfunction (ED) may be an early warning sign of heart disease. Studies show that ED often happens before heart disease is diagnosed in men. If you have ED, get checked out by your doctor or a cardiologist. Prompt treatment of heart disease can help you live an active life, and restore your ability to have a fulfilling sex life.
For a man who develops heart disease, it's like adding insult to injury: The same problems that can cause heart attacks can also produce erectile dysfunction.

Heart disease is a general term for a variety of conditions that can trigger heart attacks and other cardiovascular problems. The leading cause of heart attacks is narrowed or clogged arteries, a problem called atherosclerosis. If arteries feeding blood to the heart develop atherosclerosis, you can have a heart attack. Likewise, when arteries that deliver blood to the penis become narrowed or clogged, a man can end up with erectile dysfunction.

There is little doubt that erectile dysfunction and heart disease are closely linked. One study found that a man who has erectile dysfunction has double the risk for suffering a heart attack. Don't ignore erectile dysfunction. It could be a sign that you have even more serious problems to deal with.

Erectile dysfunction (ED) is a complicated problem that involves the brain, hormones, nerves, muscles, blood vessels, and emotions. When you have ischemic heart disease (narrowing or blockage of blood vessels), the following factors can contribute to sexual problems:
It is possible that blood vessels in the penis may become clogged with a fatty substance called plaque, much like the arteries in your heart. Without adequate blood flow to the penis, it becomes more difficult to obtain and maintain an erection.
When you also have diabetes, which affects many people with heart disease, neuropathy (the long-term damage to your nerves as a result of high blood sugar) may affect your ability to obtain and maintain an erection.
Certain heart medications such as beta-blockers may affect the physiological steps involved in sexual arousal.
And especially if you have had a heart event, psychological factors may also get in the way of an erection. You may be afraid that sex will strain your heart, cause more heart problems, or even cause death.
Talking about your heart-related sexual activity concerns with your doctor will help alleviate your fears and help you find the underlying causes of ED so that you may start looking for solutions.
Continue Learning about Erectile Dysfunction Causes