Smoking is one of the worst things a man can do for his erection, since smoking directly impacts your body's blood supply. In this video, urologist Harry Fisch, MD, explains how smoking cigarettes negatively impacts a man's erection.
Smoking can affect erectile health because it affects blood vessels. Smoking leads to atherosclerosis, or plaque in the arteries. Plaque narrows the arteries, which in turn decreases blood flow to the penis and stops the ability of the veins in the penis to expand during erection. Because of this, smokers are at a much higher risk of erectile dysfunction than nonsmokers.
Good sexual functioning depends on good blood flow. Nicotine, however, is a very potent vasoconstrictor, affecting blood vessels in two ways. First, as a stimulant, it causes direct arterial spasm, affecting arteries of the heart, lungs, eyes, internal organs, arms, legs, and of course, the genitals. Next, it damages the lining of the blood vessels, impairing the ability of those vessels to relax and allow more blood flow. Nicotine also interferes with the mechanism within the veins that help maintain an erection. All this adds up to decreased blood available for an erection and an inability to keep that blood from leaking back out.
Since nicotine is such a powerful and quick constrictor of blood vessels, it has almost immediate effects on genital blood flow. Studies using Doppler imaging have shown that the deeper arteries supplying blood to the penis immediately respond to cigarette smoke by clamping down so that no blood flow is visible after just two cigarettes. Note that this is about the same amount of nicotine that would be found in most nicotine gums or is slowly released from a nicotine patch. Although these spasm effects of nicotine do reverse after one quits smoking or stops using nicotine replacement, there is also long-term damage to the lining of the arteries, as well as the nerves.
This damage, which is caused by the nicotine along with some of the other smoke components, increases over time to the point where it is irreversible. Some of these components include:
Nicotine
Carbon monoxide
Isoprene
Acetaldehyde
Ethelene gas
This cumulative damage keeps the arteries from responding to sexual stimulation so that there is no further relaxation of those blood vessels to allow proper blood flow for an erection. In fact, researchers have found that the decrease in nighttime erections is directionally proportional to the number of cigarettes one smokes. (For more information on erectile issues, please consult Good in Bed's free mini-guide on the topic).
Continue Learning about Erectile Dysfunction Causes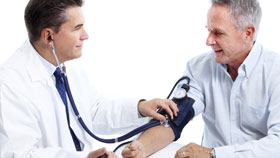 Erectile dysfunction (ED) can have several causes. Erectile function involves a complex relationship between neurologic, vascular, hormonal and psychological components. Speak with your doctor to determine whether your ED may be c...
aused by poor circulation, diabetes, obesity, smoking, medication side effect or stress and anxiety.
More