It generally takes two dental visits to place a dental crown. During the first part of treatment, your dentist will prepare the tooth by removing its outer portion so the crown will fit. Any decay is also removed at this time. To do this, your dentist will numb the area but you may later feel a little pain from where the needle administered the shot. After prepping the tooth, an impression is made to provide a model for the crown. Your dentist will fit you with a temporary crown while you wait for your permanent tooth to be ready -- usually less than two weeks. When you have the temporary crown, you may notice this tooth is sensitive to hot and cold. When the new crown is ready, the dentist will place it in your mouth and make the necessary adjustments before cementing it in place. You may feel some discomfort following the crown prep or the placing of the crown. If you do, you can take an over-the-counter (OTC) medication such as Advil or Tylenol to help manage your pain. If your dentist has prescribed medicine to control pain and inflammation, use it only as directed. If medicine does not work and you continue to feel pain, call your dentist.
After the ceramic crown is placed on your tooth, you may not feel much discomfort at all, especially if you had local anesthesia and your mouth still feels numb. Even after the numbing medicine has worn off, the crown itself shouldn't cause pain. If you are worried about pain control, talk with your dentist before your ceramic crown is placed. In some cases, he or she may write you a prescription for pain medicine. He or she also might suggest that you try over-the-counter pain relievers such as ibuprofen or acetaminophen (a familiar brand name is Tylenol).

Some types of pain may not even need medicine for pain control. Sometimes, a crown that has been placed too high on the tooth can lead to pain and sensitivity to cold foods, especially when biting down. This pain can easily be treated by adjusting the position of the crown. If you notice that your pain does not seem to be getting better, if your pain has gone away and then comes back, or if you start feeling pain that is getting worse over time, call your dentist. He or she may want you to come in so that a check of your crown and teeth can be done and to make sure that you aren't developing an infection.
Continue Learning about Dental Crown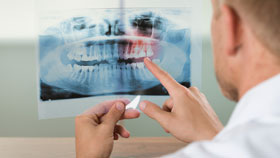 A dental crown is a covering that fits over your existing tooth to make it look and feel like a normal tooth. Crowns are often placed when a tooth is cracked or has lost its structure so that it can't hold a filling.