The fast track system at the emergency department is almost like an urgent care. Patients who are triaged (or sorted) into the fast track system typically come in with complaints like a sore throat, a rash, urinary tract infections, and minor injuries.
Most of the time, patients that go to the fast track side of the emergency department are generally healthy and their complaints can be diagnosed through a history, physical, and x-ray or point of care test (such as a urine dip to rule out a urinary tract infection).
The fast track is designed to quickly treat patients with mild ailments, like cuts and colds, without interfering with the treatment of seriously ill patients.
If your ankle is swollen and the ambulances are rolling in with critical patients, take heart. There may be another system in place for less critical patients like you. Some ERs utilize a fast track system where less acute patients are seen. The examination area is different and so is staffing and supplies. So the good news is you might be in and out faster. And you can rest assured that if your condition worsens you'll be taken to the main ER.
However, delays are still possible. If you need tests, and that includes an x-ray, you might have to wait, even if you are the only person in the fast track area. The reason is that some hospitals do not have a dedicated imaging (radiology) department or lab for the fast track, so you're in line with the rest of the folks from the main ER.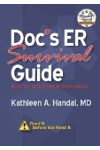 More About this Book
Doc's ER Survival Guide (DocHandal's Guides)
Few people get through life without at least one trip to the emergency room (ER), either as a patient or support person for a family member or friend. Doc's ER Survival Guide is designed to help...
Continue Learning about Critical Care