When caring for someone with Alzheimer's disease, your role will change with time. In the early stages, you may not need to do much. Just be sure the person you're caring for is following their doctor's treatment plan. With time, the disease will progress and the person you're monitoring will need more help. They'll eventually have little to no memory and may need help with everyday tasks such as eating, using the restroom, or moving around.
Alzheimer's disease can be hard on a caregiver. It's easy to become frustrated and discouraged as the condition worsens. It is important to find time for yourself and have your own support system in place as well. Sometimes just talking about your frustrations with others can help alleviate the stress of being a caregiver.
Here are some things to consider when caring for someone with Alzheimer's disease:
Memory Loss - As memory becomes increasingly impaired, the caregiver will need to serve as surrogate memory to the patient, filling in blank spaces where needed, or glossing over the issue of failed memory.
Incontinence - As the disease progresses, the patient becomes less and less aware of when they need to use the bathroom. In the middle stages this can be managed by taking the patient to the bathroom every couple of hours, but more drastic measures need to be taken later on, often in the form of adult disposable diapers.
Hygiene - As the caregiver, you may need to prompt and supervise the patient's grooming and dressing. Always give the patient single, simple instructions, instead of stringing a whole series of instructions together. Later on, you may need to perform these activities altogether.
Advice from Family - Members of your family have an interest in the well-being of your loved one with Alzheimer's. These individuals may tell you that you should be doing something else. Your role as the primary caregiver of your loved one will always be to listen and to consider the advice. but you need to be the one to decide whether to heed that advice or not.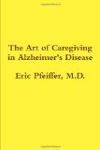 More About this Book
The Art of Caregiving in Alzheimer's Disease
This is an A to Z Guide to the caregiving experience in Alzheimer's disease. It is easy to read, easy to follow. It is authorative, based on thirty years of experieReconce in caring for Alzheimer's...
Patience is the key. Patients with Alzheimer's often ask the same question over and over. One of the best ways to communicate is to reminisce about the past so that your loved one can rely on his or her intact long term memories. It is also important to consider when the person with Alzheimer's is unsafe for driving, unable to manage finances, unsafe for cooking, and/or unsafe alone. Wandering can be especially risky since patients will often be disoriented and unable to find their way to safety.
Caring for someone with Alzheimer's disease, a form of dementia, can be challenging for the caregivers. Alzheimer's disease is an incurable, progressive neurologic illness. A person with dementia may experience:
Delusions
Hallucinations
Impulsivity
Agitation and other behavioral problems
The type of symptoms that patients experience partly depends on what type of dementia they have. While frontotemporal dementia patients experience behavioral problems earlier and more frequently, Alzheimer's patients tend to have behavioral problems later, as the disease advances. These behaviors can be troublesome and stressful for caregivers. It is important to find the right physicians and community supports to help make caring for your loved one more manageable. Caregivers should also keep in mind that Alzheimer's disease does not affect every person the same way. In order to plan properly for a person with Alzheimer's, think about:
Who is available to help with caregiving?
What financial resources are available?
How is the patient's mobility?
What type of dementia does the patient have?
All of these factors are important in creating a caregiving plan that works for the patient and loved ones. Caregivers should familiarize him or herself with the community resources available, such a local chapter of the Alzheimer's Association.
There's a huge caregiver burden for Alzheimer's disease. A well-conducted review targeted early-onset patients and caregivers of those patients to determine the impact on the on informal caregivers.
The results showed that caregivers had high levels of burden, stress and depression. They also had problems with relationships, employment, family conflicts, financial difficulties and problems concerning diagnosis.
The study authors concluded that caregivers of early-onset patients experience high levels of psychological problems related to their phase in life.
When caring for someone with the early stages of Alzheimer's disease, one may act more like a care partner than a caregiver. The role is one of support, love and companionship. One is there to help with daily life, as needed, and to help the person with Alzheimer's plan for the future. Since no two people experience Alzheimer's alike, the degree of assistance needed from a care partner in this stage varies.
A person with early-stage Alzheimer's may need cues and reminders to help with memory. For example, he or she may need help with keeping appointments, remembering words or names, recalling familiar places or people, managing money and keeping track of medications.
Alzheimer's Disease is a progressive, typically fatal, disease. Depending on how progressed the person is, the early stages typically require minimal hands on care. The person may need to have some reminders put in place around the home and things like their legal documentation, financial issues, and estate planning should be put into place at this time. As the person progresses into the midstages of the disease, their neds change and things like behavior and communication challenges, assistance with activities of daily living, and possibly home care, adult day care or Long Term Care options may need to be explored at this point.
Continue Learning about Caring For Someone Who Has Alzheimer's Disease