Both Alzheimer's disease and Parkinson's disease are diseases of the brain. Both may cause forgetfulness. However, the similarities end there. In fact, researchers believe that even the memory disorder that results from Parkinson's is distinct from the memory disorder that Alzheimer's causes.
One main difference between the diseases is how they affect the body:
Alzheimer's disease primarily affects memory. In advanced stages, the disease also impairs motor functions.
Parkinson's disease primarily affects movement and coordination. In advanced stages, it may impair memory and other cognitive functions.
Parkinson's is a distinct and separate neurodegenerative disease that occurs with increasing frequency with advancing age. It is characterized by muscle tremors and stiff muscles, especially for muscles of the face. These give the Parkinson's patient a typical mask-like face. There is an interesting reciprocal relationship between Parkinson's and Alzheimer's disease, as follows: Late in Parkinson's disease symptoms of dementia develop in perhaps fifteen percent of such patients.
Similarly, late in Alzheimer's disease, Parkinsonian symptoms develop, again in perhaps fifteen percent of such patients. In addition, in a small number of individuals both diseases may occur simultaneously, which then worsen the overall disability experienced by the patient. In addition the progression of symptoms may be somewhat more rapid in patients who experience both diseases to their full extent.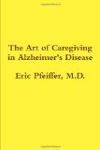 More About this Book
The Art of Caregiving in Alzheimer's Disease
This is an A to Z Guide to the caregiving experience in Alzheimer's disease. It is easy to read, easy to follow. It is authorative, based on thirty years of experieReconce in caring for Alzheimer's...
Parkinson's disease is caused by small structures called Lewy bodies that are scattered throughout the brain. It is characterized by tremors and muscle rigidity which affect the motor movements of a person. Later on in the illness, dementia may occur when Lewy bodies accumulate in specific areas in the the brain that are associated with memory formation. Sometimes hallucinations may be present. Lewy body dementia accounts for less than 10% of all types of dementia.
Alzheimer's disease does not involve Lewy bodies. About 70% of all dementia is an Alzheimer's type. However, once the brain has been weakened by a Lewy body dementia, the brain becomes more vulnerable to developing another dementia. Therefore, Alzheimer's may present itself in a person with Lewy body dementia. Whenever there is more than one dementia present, it is classified as a "Mixed Dementia."
Alzheimer's and Parkinson's are separate neurological conditions. But in this video, Dr. Rudy Tanzi explains how the conditions can sometimes overlap.
Parkinson's disease is not directly related to Alzheimer's disease but it is a form of dementia that, similar to Alzheimer's disease, affects the brain and memory loss. Parkinson's disease begins by affecting movement resulting in stiffness, difficulty walking, tremors, lack of facial expression and impaired speech. Lewy bodies are found in the brain of patients with Parkinson's thus many people with Parkinson's do develop dementia later on in the disease.
Continue Learning about Alzheimer's Disease