Until the 1990s there was no treatment for Alzheimer's. However, real progress has been made in this area as a result of research. Therefore treatment should now be started as soon as the diagnosis has been definitively established. The reason for this is that the effect of treatment is basically to reduce present symptoms and to slow the progression of the disease. Thus, starting treatment as soon as possible will have the best chance to preserve the highest level of function in the affected individual. Any delay in starting treatment will produce less favorable results since the disease will have progressed further and the starting level of the person's function will then be much lower. The currently available treatments do not cure the disease, but this is true of the vast majority of chronic diseases. Thus, for instance, even after successful treatment to control diabetes, the person will still have diabetes. After successful treatment of Alzheimer's disease, the person will still have Alzheimer's disease, but the symptoms will be less severe and the rate of progression will have slowed significantly. It is also extremely important that the diagnosis be made as early as possible, as that will have the greatest chance of retaining near normal functioning in the affected individual. At the same time, it will also ease the burden of care on the caregiver.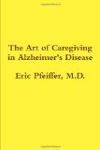 More About this Book
The Art of Caregiving in Alzheimer's Disease
This is an A to Z Guide to the caregiving experience in Alzheimer's disease. It is easy to read, easy to follow. It is authorative, based on thirty years of experieReconce in caring for Alzheimer's...
Continue Learning about Alzheimer's Disease Treatment