The ApoE test determines whether an individual has one or more of the genes that favor the development of Alzheimer's disease. There are three variants of the ApoE gene: ApoE 2 is protective against Alzheimer's disease; ApoE 3 is relatively neutral; and ApoE 4 favors the development of Alzheimer's. Each individual inherits one ApoE gene from their mother, and one from their father. Carriers of one ApoE 4 gene have a slightly higher risk for developing the disease than do persons without any ApoE 4 gene. Carriers of two ApoE 4 genes have a significantly greater risk of developing the disease, estimated at almost 70 percent. Today the ApoE test is used primarily as a research tool, not as a clinically useful diagnostic tool. The reason for this is that people without any ApoE 4 gene can still develop Alzheimer's. More than half of those with two ApoE genes will develop the disease eventually. But the ApoE gene is only a risk factor for developing the disease and not a determining factor. As I have said, the biggest risk factor for developing the spontaneous form of Alzheimer's disease is advancing age, not heredity.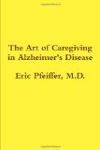 More About this Book
The Art of Caregiving in Alzheimer's Disease
This is an A to Z Guide to the caregiving experience in Alzheimer's disease. It is easy to read, easy to follow. It is authorative, based on thirty years of experieReconce in caring for Alzheimer's...
Continue Learning about Alzheimer's Disease Diagnosis & Tests