It used to be said that the diagnosis of Alzheimer's disease could only be made by performing a brain autopsy. While this was a perfectly reliable way of making the diagnosis, doing so after the person had already died did not benefit either the person or the caregiver. Today, however, it is possible to make the diagnosis of Alzheimer's disease in the living person with a 90-95% accuracy. Moreover, the diagnosis can be made at every stage of the disease—mild, moderate or severe. It can even be made when the person only has mild cognitive impairment, which we now regard as either a forerunner of Alzheimer's disease, or as the earliest stage of the disease.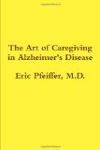 More About this Book
The Art of Caregiving in Alzheimer's Disease
This is an A to Z Guide to the caregiving experience in Alzheimer's disease. It is easy to read, easy to follow. It is authorative, based on thirty years of experieReconce in caring for Alzheimer's...
Continue Learning about Alzheimer's Disease Diagnosis & Tests