Sex isn't necessarily better when it's longer. If you're not hitting all the right spots, she's not going to enjoy it, no matter how long you last. (In fact, she may just wish it was over.) Likewise, your partner won't mind quickie sex if you're making those limited moments together worth her while. So how can you (quickly) guide your partner toward orgasm?

First, make sure you're having sex in a spot where you're both relaxed and comfortable. Stimulate her sense of fantasy by telling her something really hot. Enjoy lots (and lots) of foreplay, perhaps even bringing a vibrator into bed. This will assure that, once you're ready for docking procedures, she'll already be on the brink. (And we're telling you now… if you're worried about making it through foreplay, too, a vibrator will get her closer to orgasm more quickly.) If she's showing signs of imminent release (tension in the hands and feet and throughout her pelvis), keep doing what you're doing, making sure that your body is providing a point of resistance against her clitoris. Her orgasm is right around the corner, and will likely occur right before, or directly after, your own.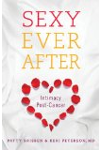 More About this Book
Sexy Ever After: Intimacy Post-Cancer
Recent studies show that 40-100 percent of men and women who have been treated for cancer have experienced some level of sexual dysfunction. Sexy Ever After: Intimacy Post-Cancer will help you...
Continue Learning about Achieving Orgasm