That ambient sound a baby hears in the womb - mainly blood running through your blood vessels and the movement of your stomach and intestines - actually reaches the level of about 90 decibels (about the level of background noise in an apartment next to an elevated train). While his developing ears can take those internal noise levels, exposure to very loud external noises can endanger an unborn baby's hearing.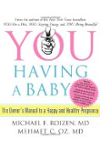 Continue Learning about Women's Health

Did you know that women are more likely to seek medical care than men? Sexual health needs, like pregnancy and contraception, often necessitate early visits to a doctor. But as we age, various health issues affect women more than ...
men, including depression, weight problems, and certain types of arthritis.In order to maintain your health and wellness, make sure you get an annual checkup.
More