You unfortunately cannot spot reduce for fat loss on the glutes. The good news though is as you lose body fat you will lose fat in your rear. Simply put if your body has a genetic pattern of storing body fat mostly in the hips then you will lose body fat as you lose weight mostly in the hips as well. Your body tends to reverse the process from putting it on to taking it off. Lose weight and you will lose fat in your hips.
Surprisingly, a key element to losing butt fat is eating carbs. Because your butt is prone to storing fat, incorporating complex carbohydrates will be helpful. They break down slowly, giving you a steady stream of energy without storing fat. So if you add foods like whole grains and pasta to your diet, while simultaneously keeping your fat intake low, you'll start to see results. Make sure to keep your diet restricted to no more than 275 grams of carbs, 150 grams of protein, and 34 grams of fat.
This content originally appeared on
doctoroz.com
Continue Learning about Weight Loss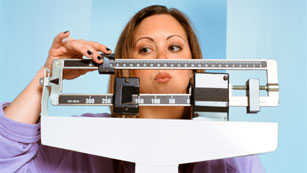 You know that to lose weight you need to burn more calories than you take in. There are only two ways to do this: reduce the number of calories you take in or increase the amount of calories you burn each day. Once you learn to do ...
this, it will be easier to maintain your weight.
More