Volleyball is an aerobic sport with additional anaerobic demands. This will require volleyball players to work both energy systems, making cardiovascular conditioning very important. The aerobic, or lower intensity training, will help build a strong cardio base that is needed for a long match. When training to improve the aerobic system, using intervals to improve the anaerobic threshold is helpful. Incorporate short interval training to tap into the anaerobic energy system. A combination of aerobic and anaerobic training in pre-season and during the season will increase overall fitness levels.
Continue Learning about Volleyball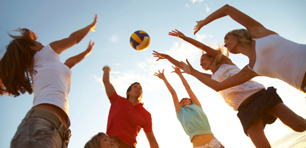 Volleyball is a team sport that involves cardiovascular endurance, agility, and hand-eye-coordination. Lateral movements, foot speed, and hip rotation are all important skills to possess. Proper elbow and knee-pads can help limit ...
injuries.
More