Although all of the muscles work together in order to create the serve, the muscles of the core need special attention. Because the core muscles are located from your hips all the way to your neck, any weakness in this region will impair all movement. Ensure that your program includes exercises such as planks (front and side), bridges (lying down with the hips up), supermans (lying on the stomach, extend the arms in front and raise off the ground with the legs together), and crunches. Performing these exercises will allow you to produce and transfer forces throughout the entire body more effectively, resulting in a more effortless serve.
Continue Learning about Volleyball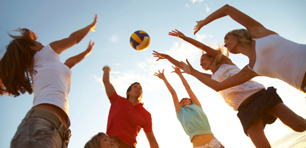 Volleyball is a team sport that involves cardiovascular endurance, agility, and hand-eye-coordination. Lateral movements, foot speed, and hip rotation are all important skills to possess. Proper elbow and knee-pads can help limit ...
injuries.
More