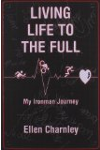 Endurance Nation preaches the following keys to Ironman racing:
Walk for 30 steps at the end of each aid station; this gives you something to look forward to each mile and also gives you some brief recovery time and opportunity to properly take in fluid.
Focus on only those things immediately around you that you can control; don't think outside of your box, stay focused within it.
Know and rehearse your "one thing," the "one thing" that is the reason you are doing the Ironman, the reason why you have invested so many hours of training and the reason why you are still putting one foot in front of the other.
The final key from the Endurance Nation coaches is that the race is about execution and not fitness. The race only truly begins at mile 18 of the run; therefore, an important strategy is to have a steady bike. They say to ride the pace that you should ride and not what you could ride, so that when you finish the bike portion, you still have plenty of energy to run the marathon. In fact, the Endurance Nation coaches preach that if you do the reverse of what everyone else is doing out there, you may well be in good shape.