Sports & Athletic Performance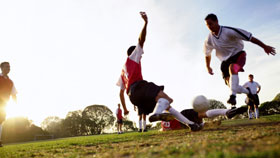 Whether you enjoy football, baseball, hockey or swimming, being in top physical shape will improve your athletic performance and protect yourself from injuries. Each sport comes with its own physical demands on your body. You may need training for balance, flexibility or agility to help you perform at the top of your game.
Recently Answered
1 Answer

Sports that don't require impact, like swimming, are easier on the knees.

1 Answer

Starting a child's sports career at an early age may seem like a smart way to get ahead. But research shows that beginning very young -- age four or sooner -- provides no benefit to future sports performance and may contribute to injuries and burnout. Kids build their sports skills in a progressive sequence that can't be dramatically sped up, no matter how early, often or hard they train. Motor skills such as balance and running don't fully develop until age six or seven, while the ability to visually track moving objects doesn't mature until age eight or nine.

2 Answers

After retiring from a sport, especially if it was your profession, can leave one dealing with a sense of loss. With the right outlook it can be a great opportunity to apply time, energy and passion towards sporting activities that you may not have had time for while you were competing. So many retired athletes take up golf and really apply their drive and competitive spirit towards their new goal. If your more into the outdoors, mountain biking, kayaking and hiking are all great activities. This could be a great time in your life to set a fitness goal of competing in a triathlon. There are so many sporting activities that fulfill that need to compete and stay athletic. This is truly an opportunity for you to experience new things and embrace a new sense of freedom.

See All 2 Answers

3 Answers

A young athlete is subject to burnout, and this can be a big barrier to further play! The practice and game schedule may be rigorous, and the initial enthusiasm may wane. To prevent burnout:

Keep your focus (and that of your athlete) on having fun and on being part of a team, not on winning.
Be careful to avoid using your young athlete to boost your own self-worth when your child or your child's team is successful.
Support and encourage your child, but stop short of pressuring your child to perform.

See All 3 Answers

4 Answers

While mental training is most commonly used to help individual or team performance, several other issues can be addressed through mental training. First, mental training can assist athletes who are injured in dealing with stress, in expediting the rehabilitation process, and in mentally preparing to return to competition. Second, a mental training consultant can help to educate parents and coaches on ways to enhance a young athlete's sport experience. Talking with groups about their influence on athletes' lives not only helps to ensure a positive sport experience for the athletes but also assists in opening the lines of communication among parents, coaches, and athletes. Third, mental training can assist athletes outside of sport in developing life skills, working through major life decisions, and transitioning out of sport.

See All 4 Answers

4 Answers

Yes. Often in the rush to perfect a certain athletic skill or bolster a sport-specific trait, we can miss some fundamental training concepts. In sports performance training, you might forget to create a foundation of balanced athleticism, injury resiliency, and general fitness. As a result, we can perform less than expected or suffer other setbacks. You can avoid over-specialization in one of two ways:

Ensure the beginning of an off-season program is multi-faceted and focuses more on developing general fitness and health. Zone-in on healing acute or nagging injuries, building different forms of strength, tapping into all types of cardio conditioning, and spending more time on flexibility; spend the first 4-8 weeks of an off-season in a well-rounded program. When you do this, you will get better gains when you specialize later, avoid burn out, and significantly reduce injuries; and
Always add some different set, repetition, or exercise variations throughout your program. Many training plans are periodized, which means they progress the intensity of the workout as our bodies adapt to the effort. More often than not, a specialized program does not train you to improve your general health and fitness, so add at least one or two exercises a day that vary from the typical set, repetition, and exercise combinations that are used in your specialized program.

See All 4 Answers

1 Answer

The position you play in a given sport will determine the importance of the strength tests in the eyes of those evaluating your results. For positions that value strength, like football linemen and linebackers, the strength test will be evaluated more closely. Some positions will require less strength than others, but you still want to perform well so that your evaluators feel confident in your abilities. If your test scores in strength parameters are below standard as compared to your peers, spend a little more time and effort to bring your results close to the average. If you are on the upper end of scores for your position, you should aim to push to the top in hopes of gaining additional positive attention from your evaluators.

1 Answer

Unless a physician detects an underlying condition or your child starts experiencing new and unusual symptoms during exertion a routine yearly physical performed by your physician will be more than sufficient screening to ensure your child is healthy and ready to participate in sports.

7 Answers

A sports coach with the right qualifications can be a good resource for health and fitness. However, since a sports coach typically specializes in preparing athletes in the proper execution of game situations it is possible that their knowledge may be limited. Check the qualifications of the professional before relying solely on their guidance for a health and fitness program. Ask about their education, certifications, and experience. The more information you have about the professional, the better able you will be to determine their if they are a reliable resource.

See All 7 Answers

1 Answer

Knee injuries from skiing are extremely common, even in South Florida, which has one of the largest ski clubs. It is not unusual that Monday mornings between Thanksgiving and mid-April, I will have a couple of people in my waiting room who were injured while skiing. Probably the most common injury to the knee from skiing is an anterior cruciate ligament "ACL" tear. This frequently happens during a twisting type motion in which the binding does not release. However, isolated ACL injuries usually do not result in the knee being locked and not able to fully extend.
In the last week, I have seen two other ski injuries with locked knees that were the result of large meniscal cartilage tears in which a piece of the meniscus flipped into the joint, preventing full extension. This is analogous to putting a stick into a bicycle gear and the gear not functioning. Most meniscal tears of that size can be fixed with arthroscopic surgery that can result in an excellent result and near normal function. If you are experiencing similar symptoms, I recommend you see an orthopedic surgeon to confirm this, as meniscal tears can be associated with ligament injuries such as ACL and MCL tears. You likely will require an MRI scan to further help establish the diagnosis.