Some multivitamins do contain fillers that contain gluten. I recommend checking the website www.glutenfreedrugs.com before you purchase any new medication.
Yes, some multivitamin products may contain gluten. People who have a wheat allergy or celiac disease might be concerned about gluten in their multivitamins. Gluten is a protein found in certain grains, primarily wheat, barley and rye. It can be a serious problem for sensitive people. Gluten can be hidden in many products including prescription, over-the-counter remedies and dietary supplements including vitamins.
Unfortunately, manufacturers don't always list all the inactive ingredients in their products, including gluten. It can be difficult to determine whether or not a vitamin contains gluten, or has come in contact with gluten during processing, because that type of labeling is not required. Most inactive ingredients, including gluten, are rarely listed on the pharmacy prescription label.

If you are sensitive to gluten you can contact the manufacturer directly or ask your pharmacist to recommend a gluten-free vitamin.


Most probably don't, but if so, it'll say so on the label. Look for the fine print usually on the bottom where the product lists things it doesn't contain such as gluten, dairy, tree nuts, etc.. Most Multivitamin and Mineral formulas (MVM) try to eliminate sources that people may have allergies to and gluten is one of them.
Maybe. The short answer is some, but not all multivitamins contain gluten. Sometimes gluten is used as a binder or filler in medications and vitamins, so if you are following a gluten-free diet, make sure the bottle contains a gluten-free label. If it's unclear, read the ingredients and when in doubt, ask the pharmacist. In our experience, multivitamins made by Pioneer and Nature Made tend to be gluten-free. If you are concerned, ask your doc about other gluten-free choices.
Continue Learning about Vitamins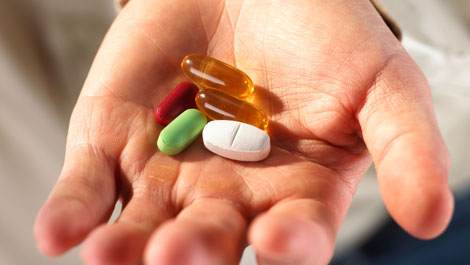 In the United States, the Food and Drug Administration (FDA) regulates vitamin supplements and provides recommended daily amount information. The FDA says that we should pay attention when considering vitamin supplements, because ...
frequently many different vitamins and minerals are combined into one product.
More