Symptoms of riboflavin deficiency may include a sore throat, lip and mouth sores, a swollen tongue, conjunctivitis (or "pink eye") and facial and/or genital seborrheic dermatitis (oily, flaky, scaly skin). Riboflavin, also known as vitamin B2, is essential to the body's normal metabolism. It is found in red meat, fish, chicken and dairy products as well as in enriched bread. People who are deficient in riboflavin may be at increased risk of cataracts. Some research indicates that pregnant women who are deficient in riboflavin may be at increased risk of preeclampsia, a condition in which high blood pressure, protein in the urine and swelling may lead to premature birth and possibly death of the mother. Talk to your doctor about your own needs for riboflavin.

Riboflavin (vitamin B2) deficiency results in decreased energy production, particularly in cells that replicate frequently, such as the skin and mucus membranes. Early riboflavin deficiency is characterized by cracking of the lips and corners of the mouth; an inflamed tongue; visual disturbances, such as sensitivity to light and loss of visual acuity; cataract formation; burning and itching of the eyes, lips, mouth, and tongue; and other signs of disorders of mucous membranes. The RDA for riboflavin is 1.7 milligrams for males and 1.3 milligrams for females.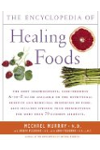 More About this Book
Encyclopedia of Healing Foods
From the bestselling authors of The Encyclopedia of Natural Medicine, the most comprehensive and practical guide available to the nutritional benefits and medicinal properties of virtually everything...
Continue Learning about Vitamins