If you take a multivitamin, there are good reasons to consider one without iron. The body tends to hold onto extra iron -- and if you take too much, that can be dangerous. Over the long run, an excess may lead to liver damage and even diabetes. So if you're already consuming a sufficient amount of the mineral, you may not need the extra dose in your multivitamin. Limit your intake to 45 milligrams a day. Men and postmenopausal women shouldn't take extra iron without telling their doctor.

If your doctor has told you that you do need extra iron, you should take it on an empty stomach, since that's how it's best digested. (You can also take it with a glass of orange juice, since vitamin C improves absorption.) If iron makes your stomach hurt, you may need to pair it with a small amount of food. Don't take it with milk, calcium or whole grains, all of which reduce absorption.

Continue Learning about Vitamins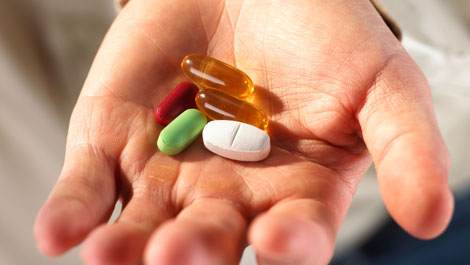 In the United States, the Food and Drug Administration (FDA) regulates vitamin supplements and provides recommended daily amount information. The FDA says that we should pay attention when considering vitamin supplements, because ...
frequently many different vitamins and minerals are combined into one product.
More