A split routine is when workouts are divided up by muscle groups. Here are some examples:

2 day split:
Monday - Chest/Shoulders/Triceps
Tuesday - Back/Biceps/Legs

3 Day split:
Monday - Chest/Shoulders/Triceps
Wednesday - Legs
Friday - Back/Biceps

4 day split:
Monday and Thursday - Chest/Shoulders/Triceps
Tuesday and Friday - Back/Biceps/Legs

5 day split:
Monday - Chest
Tuesday - Legs
Wednesday - Back
Thursday - Shoulders
Friday - Arms

6 day split:
Monday and Friday - Chest/Shoulders/Triceps
Tuesday and Saturday - Legs
Wednesday and Sunday - Back/Biceps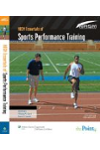 More About this Book
NASM Essentials Of Sports Performance Training
This First Edition, based on the National Academy of Sports Medicine™ (NASM) proprietary Optimum Performance Training (OPT™) model, teaches future sports performance coaches and other trainers how to strategically design strength and conditioning programs to train athletes safely and effectively. Readers will learn NASM's systematic approach to program design with sports performance program guidelines and variables; protocols for building stabilization, strength, and power programs; innovative approaches to speed, agility and quickness drills, and more! This is the main study tool for NASM's Performance Enhancement Specialist (PES).
A split routine training system involves breaking up a resistance training program by movement patterns or muscle groups to be trained on separate days of the week. A split routine is a popular training format with strength and mass-dominant athletes such as bodybuilders, football players, shot putters, etc.An example of a two-day body part split routine would be to train chest, shoulders, and triceps on Monday and back,biceps, and legs on Thursday. An example of a four-day split routine divided between upper and lower body would be to train upper body on Monday and Thursday and lower body on Tuesday and Friday with a rest day on Wednesday.It is apparrent that split routine programs can come in all types and sizes and that numerous variations can be implemented.
Continue Learning about Types Of Exercise


Exercise provides many health benefits - from fitness to increased physical and mental energy. In order to prepare yourself for a exercise routine, you need to research which exercise is right for you and how to fit a new exercise ...
e program into your daily schedule.
More