It's best to include a variety of exercises in your exercise program that incorporate cardiovascular activities as well as strength or muscle training.
Cardiovascular activities are exercises that make your heart stronger. They include walking, biking, running, or using machines such as an elliptical trainer or stair climber. These activities raise your heart rate, improve blood flow and deliver more oxygen to your body. It's recommended you get about 60 minutes of cardiovascular exercise a day.
Strength training involves exercises that maximize muscle movement and endurance through repeated, weighted movements. Some examples of strength training include dumbbell curls, abdominal crunches, pushups and lunges.
The most important thing when it comes to exercise is to do something you enjoy, and that you will commit to doing on a regular basis.
The best exercise program is one that you enjoy, will look forward to acheiving and will complete.
As a general rule, one should begin with a " warm-up" that includes stretching the major muscle groups. One should also end with a "cool down" period that also includes some stretching. In between, ideally one should mix aerobic exercises with weight-bearing exercises.
Varying the regimen will make the sessions more fun and also limit the chance of injury. When beginning a program, it is important to start slowly and build the intensity and duration.
Exercise programs should include specific exercises to improve your cardiovascular health, such as jogging, swimming, rowing, elliptical exercises and biking. Other modalities to include in your exercise program are light weight lifting, yoga, meditation, and core strengthening. It is important to exercise 30 minutes, 5 days a week. It is also very important to consult your physician prior to beginning any exercise program.
When it comes to designing your exercise program you need to be sure and include a warm up and cool down. You'll need a few flexibility exercises, a couple core and balance exercises, and at least four resistance exercises.
Your resistance or weight bearing exercises need to hit all the major muscle groups: chest, back, shoulders and legs for a total body workout.
Don't forget your cardio! 30 minutes of cardio with a 5 minute cool down. Have fun and get creative with your program.
Ideally, a well-rounded and comprehensive exercise program that optimizes your energy metabolism includes cardio work, strength training, and stretching. Each of these activities affords you unique benefits that your body needs to achieve and maintain peak performance. Cardio work, which gets your heart rate up for an extended period of time, will burn calories, lower body fat, and strengthen both your heart and lungs. Strength training (use of weights or elastic bands, or even your own body weight as resistance in some cases) will keep your bones strong and prevent that loss of lean muscle mass. Stretching will keep you flexible and less susceptible to joint pain.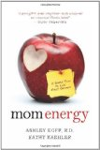 More About this Book
Mom Energy: A Simple Plan to Live Fully Charged
       From celebrated dietitian Ashley Koff and fitness trainer to the stars Kathy Kaehler comes Mom Energy, an exciting new way for moms to tap into their own natural and renewable sources of...
At a minimum, an exercise program should contain flexibility training, resistance training, and cardiovascular training. As a beginner, you'll want to incorporate foam rolling and static stretching (holding a stretch for 20-30 seconds) into your flexibility training, Your resistance training exercises should consist primarily of stabilization exercises with a repetition range of 12-20 performed at a slow tempo. Your cardiovascular training should consist of 5-7 days of at least 30 minutes of moderate intensity exercise. Everything doesn't have to be performed at once. They can be performed at different times of the day. For instance, cardiovascular training early in the morning, and flexibility and resistance training on your lunch break or after work.
Continue Learning about Types Of Exercise


Exercise provides many health benefits - from fitness to increased physical and mental energy. In order to prepare yourself for a exercise routine, you need to research which exercise is right for you and how to fit a new exercise ...
e program into your daily schedule.
More