Your ankle is black and blue due to bleeding and inflammation beneath the skin, or bruising. Bruising is the result of internal damage to the tissue and support structures beneath the skin.
If your ankle is black and blue, it is a sign that damage has occurred to the soft tissues (i.e., muscle, tendon, skin, fat) in your ankle. The black and blue appearance of your ankle occurs because tiny blood vessels within the soft tissues (called capillaries) have been torn. When these tiny vessels are damaged, blood is allowed to escape the vessels and leak into the tissue. This black and blue appearance (a.k.a., bruising) can linger for several days, but will usually go away on its own. The bruising may change colors over several days because of chemical processes that are happening in the area. There is no need for concern regarding the changing color of a bruise.
(This answer provided for NATA by the Eastern University Athletic Training Education Program.)
Continue Learning about Sprains and Strains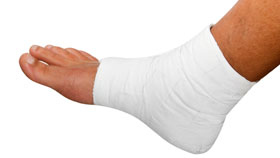 A sprain occurs when there is an injury to the ligament supporting a joint. The most common sprains are ankles, knees, wrists and thumbs. Symptoms of sprains are swelling, bruising, pain and sometimes loss of movement to the affec...
ted joint. Learn more about sprains and strains from our experts.
More