Worried that your breasts might leak dur­ing sex? It's entirely possible. Some women find that they leak or spray milk (called "letdown") during orgasm, especially when they first start breastfeeding. You may be able to prevent letdown by pumping your breasts or nursing your baby be­fore sex, or wearing a bra with pads to bed. But if you do leak, no need to worry. It's natural -- and good sex is often messy!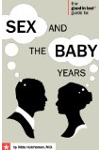 More About this Book
The Good in Bed Guide to Sex and the Baby Years
Available at a substantial discount for a limited time only, thanks to support from K-Y(R) Brand!Once you get down to the business of baby-making, the advice will pour in: books, magazines, in-laws,...
Continue Learning about Orgasm

What is an orgasm? An orgasm is a release of built-up sexual tension and a source of sexual pleasure for both men and women. For women, the vagina and clitoris become engorged with blood, leading to contractions of the vagina. For ...
men, blood flow causes the penis to become erect, usually causing the release of semen at the point of climax. Orgasms are experienced differently by different people, depending on the type of stimulation used, such as masturbation, clitoral stimulation, a sense of intimacy with a partner and other factors. Learn more about orgasms with expert advice from Sharecare.
More