Simple Low-Sugar Meals That Actually Taste Amazing
Tips for low-sugar living and tasty, expert-approved dishes you need to try.
Medically reviewed in January 2023
1 / 10
Whether you're trying to shed pounds, control diabetes or boost your overall health, limiting added sugar is a good place to start. Eating too much raises your risk of:
Obesity
Heart disease
Type II diabetes
Early death
And most Americans consume way too much: the average adult gets about 13 percent of their total daily calories from added sugar, according to the Centers for Disease Control and Prevention (CDC)—it shouldn't account for more than 10 percent of a healthy diet.
The bottom line? Everyone should care about sugar, not just people with diabetes. Here are expert tips and easy recipes to help you cut back. 2 / 10
Are all sugars created equal?
Sugar comes in many forms, from soda, to fresh fruit, to milk and more. Does it affect you the same way, no matter where it comes from?
Yes and no. When it's broken down into basic molecules like glucose and fructose, your body can't tell if sugar started out as an apple or an apple-flavored candy. However, the fiber that comes with the apple slows the digestion and absorption of those molecules, keeping your blood sugar steadier longer than it would be with the candy. The apple also offers essential vitamins and minerals the candy doesn't. Plus, it'll fill you up more.
"Natural sugars like those found in fruit, milk and plain yogurt are okay for both people with and without diabetes," says Alexis Schulte, RD, LDN, CDE, a diabetes educator at Trident Hospital in Charleston, South Carolina. "And fruit, especially, is essential for your overall health—even people with diabetes don't want to eliminate it. But keeping track of both natural and added sugars—and limiting your intake—is wise." 3 / 10
How much sugar should you have?
Aim to get less than 10 percent of your total calories from added sugars, says Schulte. That equals about:
250 calories (16 teaspoons or 63 grams) daily for men
200 calories (13 teaspoons or 50 grams) daily for women
You can't always tell how much added sugar is in food based on the nutrition facts label, so check the ingredients for "hidden" sugars like molasses, fruit juice concentrates, malt sugar and sugar molecules ending in "-ose" like dextrose and maltose. 4 / 10
How to build a sugar-steady meal
With any dish, you want a variety of food groups that will complement each other and keep your blood sugar steady over time, says Schulte. "Try to eat at least three food groups at each sitting," she continues. "One of them should be protein because it'll keep your mind and body working—you won't wind up with an energy crash or hunger between meals. Add slow-digesting carbohydrates (like brown rice, bulgur or oats) to help prevent blood sugar spikes and crashes, too."
Avoid eating just one or two foods and calling it a meal. If you only have toast, for example, your blood sugar might go up at first, but you won't feel full or satisfied—and it may drop suddenly later on, leaving you shaky, cranky and light-headed. Low blood sugar can be especially risky for people with diabetes.
New to the low-sugar life? Here are six expert-approved recipes to get you started. 5 / 10
Breakfast: Hearty Huevos Rancheros
Huevos rancheros is an egg dish that typically includes diced peppers, tomatoes and black or refried beans. "This breakfast provides plenty of fiber and protein, and it just adds a little flavor and variety to the week," says Schulte.
Serves 4
Ingredients
8 soft corn tortillas
2 pounds fresh, chopped tomatoes
2 to 3 poblano or jalapeño peppers, chopped (remove seeds for less spice)
2 garlic cloves, halved
1/2 onion, chopped
2 tablespoons olive oil
4 to 8 eggs (1 to 2 per person)
Chopped, fresh cilantro (to taste)
Optional: Serve with fresh avocado and/or low sodium black or refried beans.
Mix the tomatoes, peppers, garlic and onion; puree in blender or food processor until they reach a salsa-like consistency.
Heat 1 tablespoon olive oil in a non-stick skillet. Add salsa and saute until it becomes thicker and darker. Remove from the pan and set aside.
Warm the tortillas on the skillet or in the microwave between layers of damp paper towels. Set aside on four separate plates, two shells per plate.
Scramble or fry the eggs according to your personal preference. (Use the remaining oil if necessary.)
Place an egg on each tortilla shell. Top with warm salsa. Sprinkle cilantro to taste.
Adapted from the New York Times.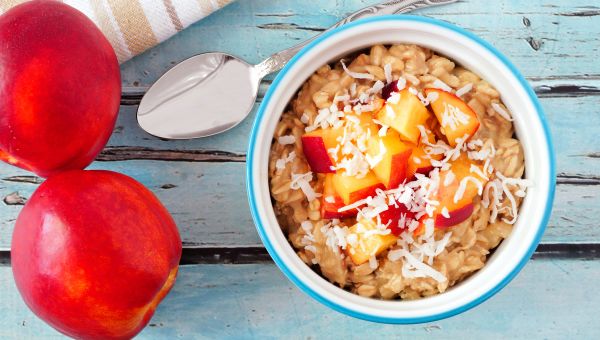 6 / 10
Breakfast: Out-the-Door Oats
Processed oatmeals with long ingredient lists often contain excess sugar. But if you choose plain, rolled or steel cut oats, you skip the added sugar and benefit from oatmeal's cholesterol-lowering fiber.
"Top off a cup of cooked oats with 1/4 cup of walnuts or almonds," suggests Schulte. "Add plain Greek yogurt and a drop of vanilla extract for flavor."
Don't have time to boil oats before work? Throw together these basic overnight oats in advance. Then add toppings like fruits, nuts and seeds the next morning.
Serves 1
Ingredients
1/2 cup rolled oats
2/3 cup unsweetened milk of choice (Almond or soy milk are fine, but check the sugar content.)
1 tablespoon chia and/or flax seeds
1/2 teaspoon vanilla extract
Directions:
Mix ingredients in a bowl.
Spoon them into a mason jar.
Seal and refrigerate over night.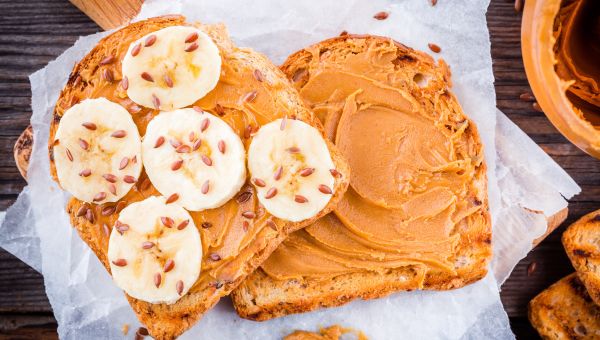 7 / 10
Lunch: Skinny Elvis Sandwich
The King made fried peanut butter, banana and bacon sandwiches world famous. Here's a slimed-down recipe to rival the classic:
The bread: Replace white with whole wheat or spelt bread.
The nut butter: Peanut butter has around 3 grams of sugar per two tablespoon serving, depending on the brand—not bad, but it's high in fat with 16 grams per serving. For a lower-fat alternative, try one tablespoon of almond butter with 9 grams of fat and less than 1 gram of sugar per serving.
The fruit spread: Elvis was right to choose fresh fruit over jelly, and bananas are loaded with essential nutrients like potassium and B vitamins—but they're also high in carbohydrates (27 grams) and natural sugars (14 grams). Enjoy bananas in moderation, occasionally swapping in lower-sugar fruits like fresh berries. Raspberries taste surprisingly delicious with nut butters and contain about five grams of natural sugar per cup, plus they're a brain-boosting food.
If you absolutely need the bacon, swap the pork with a heart-healthy option like seitan bacon—but still check the label and choose a low-sugar, low-sodium brand.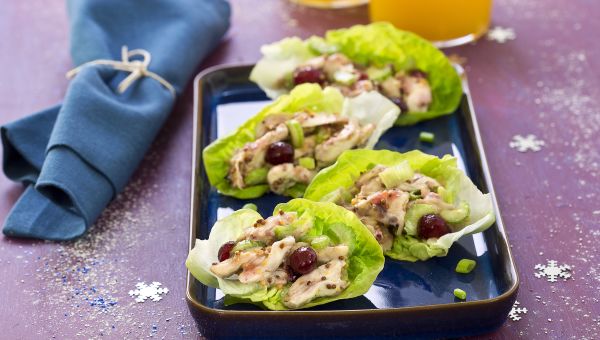 8 / 10
Lunch: Gems and Pearls Salad
Enjoy this delicate and refreshing twist on traditional chicken salad over crunchy, raw vegetables or scoop it up with lettuce cups. "You could also have it with whole wheat crackers or a whole wheat pita," says Schulte. The key is to use plain, non-fat Greek yogurt instead of mayo for the creamy base, she adds.
Serves 6 to 8
Ingredients
For the dressing:
1 cup plain, non-fat Greek yogurt
4 teaspoons apple cider vinegar
1 teaspoon poppy seeds
Salt and pepper to taste
1 1/2 teaspoon honey to drizzle at the end (optional)
For the salad:
4 cups shredded chicken
2 ounces pecans, chopped
1 cup red grapes, halved
1 to 2 celery stalks, finely chopped
1/2 cup shredded carrots
Optional: Toss in any other "gems" (raw veggies) you have on hand like shredded cabbage, chopped cucumber or sliced radish—get creative!
Directions:
Combine the salad ingredients in a mixing bowl.
Mix the dressing ingredients—leave honey aside for the end—and pour over the salad. Stir.
Refrigerate for about an hour to ensure ingredients have a chilled, uniform temperature.
Plate the lettuce or wheat wraps and scoop the salad on top. A light drizzle of honey is optional at the end, but stay below the 1 1/2 teaspoon serving since it contains about 8 1/2 grams of sugar.
Adapted from Simplyscratch.com. 9 / 10
Dinner: Sweet Chili-Lime Salmon
You can use any type of fish you'd like for this recipe, but fatty fish like cod and salmon will fill you up more than a lean fillet like tilapia.
"Aim to eat fish two to three times per week," says Schulte. "For this flavor-packed, low-sodium recipe, choose sweet potatoes as your side for a high-fiber, filling option. Pick butternut squash for a tasty, somewhat sweet carbohydrate that tastes great with the smoky flavor of the cumin and chili powder."
Serves 2
Ingredients
1 teaspoon paprika
1/2 teaspoon oregano
1/2 teaspoon chili powder
1/2 teaspoon garlic powder
1/2 teaspoon cumin
1/4 teaspoon ground black pepper
1/8 teaspoon cayenne pepper or crushed red pepper (optional)
2 tablespoons olive oil, divided
2 (4-ounce) fish fillets
2 tablespoons lime juice
2 small sweet potatoes or 2 cups butternut squash, cut into 1/2- to 1-inch pieces
Assorted vegetables like zucchini, mushrooms and onions, to taste, coarsely chopped
Directions:
Preheat oven to 450 degrees F.
Combine all spices and mix well. Set aside.
Wash fish and pat dry. Brush fillets with 1 tablespoon olive oil and coat with the spice mixture. Refrigerate for 30 minutes.
While fish is in fridge, toss potato/butternut squash pieces with 1 tablespoon olive oil and sprinkle with salt and pepper. Spread in a single layer on a foil-lined baking sheet and bake.
When fish is ready to come out of the fridge (after 30 minutes), place it on half of a different foil-lined baking sheet. On the other half, place vegetable mixture (zucchini, mushrooms, onions or other); lightly glaze with 1 teaspoon olive oil. Place in oven. Flip the potatoes with a spatula while you're in there.
Bake for 10-12 minutes or until the fish is cooked through.
Plate the fish, vegetables and potatoes/butternut squash. Pour the remaining lime and olive oil mix over top to taste.
Adapted from Fashionablefoods.com. 10 / 10
Dinner: One-Pan Mediterranean Casserole
This dinner is low in saturated fat and high in monounsaturated fats from olives and olive oil, which is great for your heart health, says Schulte. Feel free to add plenty of non-starchy vegetables like turnips, zucchini and eggplant, to taste.
Serves about 4 to 6
Ingredients:
4 to 6 boneless, skinless chicken thighs or breasts
3/4 teaspoon dried rosemary
1/2 teaspoon dried dill
1/2 teaspoon ground pepper
2 teaspoons olive oil, divided
1/2 yellow onion, diced
8 ounces mushroom (variety of your choice), sliced
1 cup quinoa
2 cups low-sodium chicken broth
1 1/2 cups frozen spinach (3 cups if fresh)
8 ounces sliced Kalamata olives (optional)
1 tablespoon feta cheese (optional)
Salt and pepper to taste
Directions:
Wash raw chicken and pat dry. Coat with rosemary, dill and ground pepper.
Heat 1 teaspoon olive oil in a large non-stick skillet and saute onions over medium heat until transparent. Add the quinoa and chicken broth and bring to a boil. Cover and reduce heat to simmer for about 15 minutes.
After 15 minutes has passed, lay the chicken on top of the quinoa. Add the mushrooms and spinach around the sides. Cover again and cook another 15 minutes, or until the chicken is no longer pink and has reached a minimum temperature of 165 degrees F.
Plate approximately 1 cup of quinoa mixture and 1 chicken breast/thigh per serving. Serve fresh, raw vegetables like diced cucumbers and tomatoes on the side. Sprinkle a small amount of feta cheese and olives on top, if desired.
Adapted from Allrecipes.com. Replay Slideshow