There's some alarming evidence from a recent Yale University study that tested kids for evidence of impaired glucose tolerance, one of the precursors of type 2 diabetes. (Impaired glucose tolerance means that the body is not able to process food properly and the sugar levels in the blood rise higher than normal after eating, but not high enough to constitute a diagnosis of diabetes.) Of kids age 4 to 10 in the study, 25% had impaired glucose tolerance, indicating that this startling epidemic of cases of type 2 diabetes in children could grow even more widespread.

The study also found that 4% of the obese adolescents already had type 2 diabetes, of which neither they nor their parents were aware. Since many children are not routinely tested for diabetes, pediatricians worry that as alarming as the statistics regarding type 2 diabetes are, in reality they are probably even worse than we know.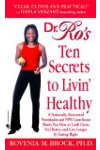 More About this Book
Dr. Ro's Ten Secrets to Livin' Healthy
In this one-of-a-kind book, Dr. Rovenia M. Brock—known as Dr. Ro™ to fans of Black Entertainment Television's Heart & Soul—reveals practical, satisfying ways for African American women to eat...
Continue Learning about Prediabetes