Like most transitions in a person's life, how you react will depend on physical, psychological, social, educational, and cultural factors. And I think it goes without saying that no two women will experience natural menopause in the same way. Menopause typically begins midlife, a time when many other changes are also taking place; children may now live away from home, partner relationships enter a new phase, along with the normal physical changes that happen as a women ages.

Many women welcome this new phase of life, while others have a harder time, particularly if menopause symptoms are severe and impact quality of life. I have found that the more a woman understands what is happening in her body, the better equipped she is to deal any obstacles to a healthy postmenopausal life. It helps to have the understanding of partners, family and friends, especially someone who is also going through menopause. Women who are dealing with menopause because it has occurred earlier then usual, or because of diseases like cancer, will likely need additional support.

Women react differently to menopause, the period when fertility ends. According to the Massachusetts Women's Health Study, the majority of women are indifferent or positive about menopause.

The "change of life" is welcomed by many women and signals more freedom (from getting pregnant), independence, and a time to reassess priorities and goals. According to the study, these women improved their personal lives after menopause. About three-fourths of women between the ages of 50 and 65 who participated in the survey said they used menopause as a time to make healthy lifestyle changes such as quitting smoking and losing weight.
The Massachusetts Women's Health Study, one of the largest and most comprehensive studies of midlife women and menopause, showed that the vast majority of women have positive or neutral attitudes toward menopause. Many of us find that the experiences and symbolism of the menopause transition motivate us to take stock of our lives, think about what is most important to us, become more attentive to our health needs, and make changes in how we take care of ourselves. In a 1998 Gallup survey sponsored by the North American Menopause Society, a majority of postmenopausal women said they were happier and more fulfilled than when they were younger. They reported improvements in their family and home lives, partner relationships, and friendships. In addition, approximately three-quarters of the women living in the United States and ranging in age from fifty to sixty-five, said they had made some type of health-related lifestyle change, such as stopping smoking, at menopause or midlife.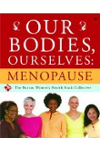 More About this Book
Our Bodies, Ourselves: Menopause
FROM THE EDITORS OF THE CLASSIC "BIBLE OF WOMEN'S HEALTH," A TRUSTWORTHY, UP-TO-DATE GUIDE TO HELP EVERY WOMAN NAVIGATE THE MENOPAUSE TRANSITION For decades, millions of women have relied on Our...
Continue Learning about Menopause