You can find answers to questions regarding menopause through Women's Health Blog, Women's Health News Blog, Her Blog, Women's Health Research News, Women's Health and Fitness Blog and Women's Health.
Your primary care doctor, gynecologist (doctor specializing in the female reproductive system), or nurse practitioners can give you information about menopause and the types of symptoms to expect. If you are having menopause-related bladder problems, such as stress incontinence and overactive bladder, a urologist (doctor specializing in the urinary system) can help. Doctors can also prescribe treatment to help manage menopause symptoms and bladder problems.
Start with docs you're already seeing—and trust. Your family doctor or gynecologist can be a good source of information when you're looking for answers to questions about menopause.

Menopause is not a disease or illness. However, a woman's body undergoes significant changes during this stage of life. Some of these changes can cause troublesome side effects, such as hot flashes. Yet a woman who has reached menopause also has a heightened risk for conditions such as heart disease and osteoporosis, which causes bones to become fragile. Your doctor can recommend strategies and prescribe treatments for beating the heat of hot flashes and coping with other symptoms. He or she can also help you devise a plan for lowering your risk for menopause-related health conditions.

A good place to start is with friends and family members. With menopause, as with your periods, pregnancy, and childbirth, the range of &quotnormal" experiences is very wide. Many women find formal and informal support groups helpful in sharing the experiences of a variety of women. Such groups help you feel that you are not alone, give you support for your decisions, and offer additional ways of thinking about your situations.
When speaking to friends, relatives, and other women, you understand that while health care professionals have expertise regarding diagnosis and interventions, only you can figure out what is important to you. As you listen to opinions, some of which may be contradictory or similar to yours, you realize that you have the right to act in ways consistent with your values and priorities. This is true even if your decisions are contrary to the mainstream medical position, differ from the decisions made by your friends, or fly in the face of the advice given by the menopause pundits in the mass media.
Health care providers can be an important source of health information. However, they often are constrained by limited time; bureaucratic rules; financial incentives from employers to restrict services (particularly in managed care settings); personal biases about treatments or prejudices about certain groups of people; lack of knowledge about prevention, self-care, and alternative treatments; and concerns about liability. Therefore, it is important to seek information from additional sources, such as family and friends, support groups, libraries, and medical and health information websites.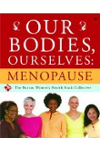 More About this Book
Our Bodies, Ourselves: Menopause
FROM THE EDITORS OF THE CLASSIC "BIBLE OF WOMEN'S HEALTH," A TRUSTWORTHY, UP-TO-DATE GUIDE TO HELP EVERY WOMAN NAVIGATE THE MENOPAUSE TRANSITION For decades, millions of women have relied on Our...
Continue Learning about Menopause