Some cancer treatments can cause menopause. Medical treatments such as chemotherapy or radiation can cause menopause if the ovaries are permanently damaged in treatment. Not all women who go through chemotherapy or radiation will experience induced menopause. Sometimes there can be damage to the ovaries, but it is only temporary.
The effects of radiation depend largely on the location of your treatment. Pelvic or ovarian radiation can cause a dramatic decline in estrogen levels. You may experience relatively sudden signs of menopause such as hot flashes and vaginal dryness, which are more severe than those experienced after chemotherapy. You may also stop menstruating. These changes occur during the course of treatment or within three to six months following radiation. In the case of pelvic or ovarian radiation, your reproductive system is almost always permanently affected, leading to early menopause.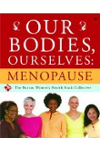 More About this Book
Our Bodies, Ourselves: Menopause
FROM THE EDITORS OF THE CLASSIC "BIBLE OF WOMEN'S HEALTH," A TRUSTWORTHY, UP-TO-DATE GUIDE TO HELP EVERY WOMAN NAVIGATE THE MENOPAUSE TRANSITION For decades, millions of women have relied on Our...
Normally, a woman undergoes menopause over a period of several years, starting in her late 40s. However, a woman may enter menopause ahead of schedule if she requires certain medical treatments. That's too bad, but the benefits of these treatments far outweigh the discomfort and inconvenience of coping with menopause symptoms.
The medical procedure that is guaranteed to induce menopause in women who are still menstruating has a tongue-twister of a name: bilateral oophorectomy. That's a fancy way of saying removal of the ovaries. There are a number of reasons why a woman may undergo bilateral oophorectomy, but the most common is to treat cancers of the ovaries and other reproductive organs.
Other approaches to treating cancer, namely chemotherapy and radiation, may damage the ovaries and induce menopause. However, that's not always the case. And even if a woman with damaged ovaries begins to have symptoms of menopause such as hot flashes, they may not last if her ovaries heal and regain function.
Continue Learning about Menopause