The season for California figs is from June to September, with the timing dependent on the varietal, while European figs are available throughout the fall. Figs are quickly perishable and delicate, and are usually best eaten within one to two days after purchase. When choosing figs, select those that are plump and tender, have a rich, deep color, and are free from bruises and not mushy. Ripe figs have a sweet fragrance. When brought home, ripe figs should not be washed until ready to eat. They should be kept covered in the refrigerator on a paper towel -- lined plate, where they will remain fresh for approximately two days. If figs are not yet ripe, it is best to keep them at room temperature, away from direct sunlight.

Dried figs will stay fresh for much longer, about several months. When purchasing dried figs, you want to ensure that they are free of mold and soft and have a mild pleasant scent. Dried figs can be kept in a cool, dark place or stored in the refrigerator. Further more, they too should be wrapped as to not be overexposed to air, which will make them dry.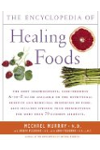 More About this Book
Encyclopedia of Healing Foods
From the bestselling authors of The Encyclopedia of Natural Medicine, the most comprehensive and practical guide available to the nutritional benefits and medicinal properties of virtually everything...
Because figs are a "fancy" produce item, they are packed carefully and are therefore usually beautifully displayed in markets. Color differs with variety, but healthy figs have a rich color. Mission figs will be nearly black. Look for plump shapely figs with unbruised, unbroken skins and mild fragrance. Sour smelling figs mean they are spoiled. Ripe figs should be soft to the touch but not mushy. If figs are shriveled like they are beginning to dry, they will be particularly sweet. Size is not an indication of quality. When buying packages of dried figs, check for unbroken wrapping. The figs should be able to be gently squeezed through the package. Watch out for moldy or sour smelling figs.
Continue Learning about Healthy Foods & Cooking