8 Tricks for Healthier Chili
Craving comfort food? Here's how to make sure your favorite spicy stew doesn't weigh you down.
Medically reviewed in December 2021
Updated on September 7, 2022
1 / 9
There's little more comforting than a warm bowl of chili on a cold winter night. This hearty stew is a favorite among foodies because it's savory and warm and offers a multitude of variations. The best news is that chili can be good for you, too.
The meat and bean combination creates staying power in the stomach, holding you over until the next meal, while certain ingredients, like garlic and onions, offer nutritional benefits. A dish that's good enough to get its own holiday—National Chili Day, on the fourth Thursday of February—is certainly worth celebrating. We talked with Alyssa Anderson, RD, a dietitian in Salt Lake City, Utah, to learn why chili is good for you and what you can do to boost the benefits even more. 2 / 9
Power up with protein
Meat and beans are what give chili plenty of protein, but choosing fatty meat can quickly reduce the dish's health benefits. The easiest way to ensure your chili remains heart-healthy is to select meats with less fat.
"Always trim the fat off your meats before you use them," says Anderson. "I like stew meat or a nice lean beef, turkey, or chicken. You can even use a rotisserie chicken." Remember, vegetarian chili can be just as good; it's made with protein-rich beans.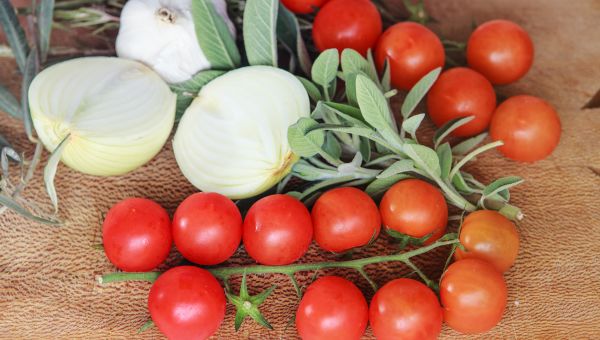 3 / 9
Load up on veggies
Cooked tomatoes, a basic ingredient in most chili recipes, are low in calories and high in carotenoids, powerful antioxidants that offer an array of health benefits. Other vegetables, like chili peppers and onions, also have antioxidants that may help reduce your risk of chronic disease. You can also be flexible and creative when it comes to the types of veggies and how much of them to add.
"I try to make sure about half of my chili is vegetables, so canned tomatoes are great, and onions and garlic are, too," says Anderson. Bell peppers, corn, and hominy—especially for white chicken chili—are also good plant-based additions.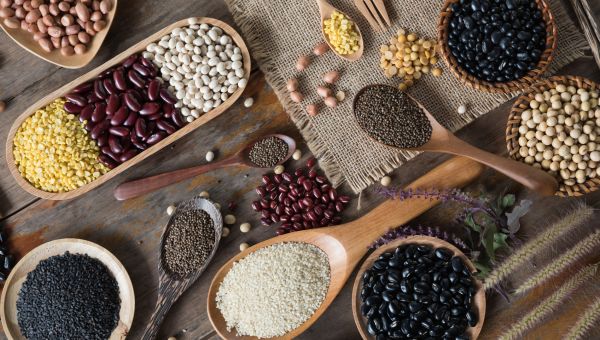 4 / 9
Pack in the fiber
Whichever bean is your favorite, they're all rich in fiber, protein, complex carbohydrates, and B vitamins. Since you have the ability to add in any type, go for the flavors you like the most.
"You may have more carotenoids in dark red kidney beans versus the lighter ones, like pinto beans, but it's not a huge difference," says Anderson. It's better to remember that the healthiest choice is dried beans that you soak and cook from scratch because it gives you control over the amount of sodium in your meal, she adds. If you're using canned beans, look for options with little or no salt to keep the sodium in check, or drain canned beans before adding them to your chili pot.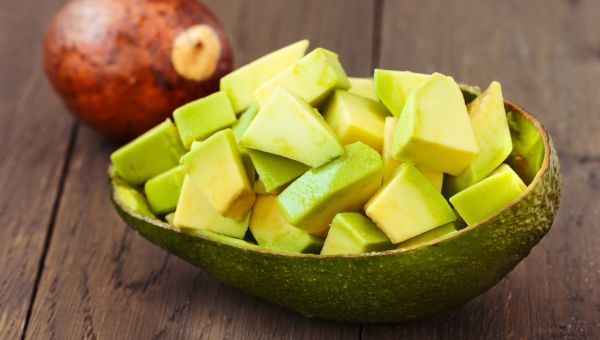 5 / 9
Add smart toppings
For extra flavor, texture and nutrients, diced avocadoes and extra veggies (like diced onions, chiles, or tomatoes) make great toppings. You don't have to steer clear of sour cream and cheese, but be mindful of how much you're using. Opting for a low-fat sour cream—or nonfat yogurt—will cut calories, and choosing a sharper cheddar will allow you to ramp up the taste for fewer calories.
"You're not necessarily looking for the cheesiness in your chili, you're looking for that flavor. A strong flavored cheese will help you use less," says Anderson. She recommends no more than a dollop of sour cream and two tablespoons of cheese for every one cup of chili.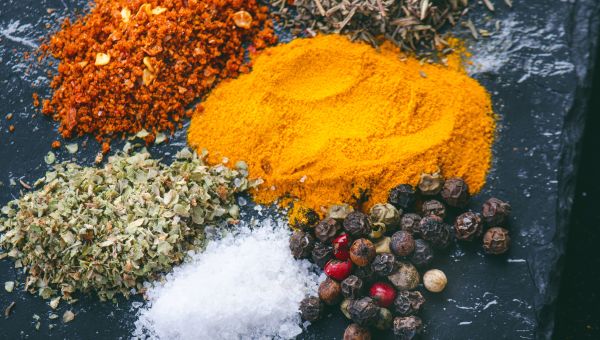 6 / 9
Spice things up
Spices ramp up the flavor—and your chili's health benefits.
"For me, a basic chili always needs to have chili powder, cumin, and garlic. Those are critical for the flavor profile we are looking for," says Anderson. Hot peppers are a great source of flavonoids, antioxidants which may help reduce your risk of cancer, she says. Some studies show garlic may help improve your cholesterol and blood pressure. To make the most of those benefits, Anderson recommends chopping up the garlic and letting it sit for at least 10 minutes before sauteing to let those healthy compounds release. 7 / 9
Make a perfect pairing
Certain chili pairings will add fiber and complex carbohydrates to your meal, keeping you feeling full longer. Depending on your taste preference, you may choose to spoon your chili over rice (whole grain is better), quinoa (packed with fiber and protein), cornbread, or even potatoes to get those extra health benefits. If you're using something like rice or quinoa, your portion size should be no more than one cup cooked, says Anderson.
"I like cornbread muffins instead of a big pan of cornbread. You get the flavor, but it's portion controlled for you," she adds. Another option? Try russet or Yukon gold potatoes with the skin on for more potassium, vitamin C, and fiber.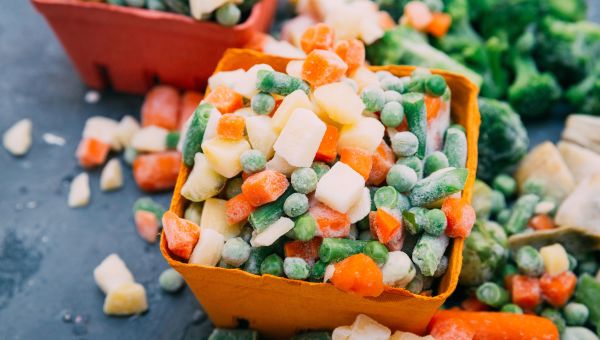 8 / 9
Save on prep time
Healthy chili doesn't have to take all day to prepare. Anderson says a good chili can be ready to serve in 30 minutes, and you can use convenience products to save time.
"I usually tell people to buy canned tomatoes that have flavor added to them. You can even use spicy salsas," says Anderson. Head to the frozen foods aisle and stock up on pre-chopped veggies like onions and bell peppers, and opt for chopped tomatoes, too. If you want to prep fresh ingredients ahead of time, she recommends cutting up veggies and freezing them in a single layer on a cookie sheet to prevent big lumps. 9 / 9
Store it safely
After your insides are warm and your belly is full, it's important to pack up your chili properly. Anderson suggests storing your chili in multiple containers rather than a big pot.
"If you put the whole pot in the refrigerator, it's going to take several hours to cool down and bacteria can reproduce as it's cooling down," she says. To cool it down quickly, put the chili pot in an ice bath (filling a clean kitchen sink with ice works). Then portion it out into smaller containers. Replay Slideshow