Good nutrition is important for your child to grow appropriately and live a healthful life. Childhood sets us up for adulthood. As a child grows, they form the ideas and habits that will serve them as an adult. We want our children to be healthy, free from sickness, and, certainly, without any growth issues. Good nutrition will help. Studies link good nutrition to better school performance, being physically active, and, eventually, a healthy adulthood.
Good Nutrition during childhood sets the tone and patterns for lifelong health and wellness. A well-balanced diet will allow your child to reach his/her full growth potential, perform well in school and maintain their energy level. Visit kidseatright.org to get more up-to-date information on good nutrition for your child and you.
Proper nutrition influences brain development, behavior, and attention span, and it plays a major role in whether your child is at increased risk of obesity, asthma, heart disease, impotence, cancer, blindness, memory loss, and other later-in-life health problems.
Just think about how foods affect your own energy levels: If you don't eat enough of the right foods, you feel so sluggish that it's as if you haven't even put a paddle in the water. And some foods (think sugar) make you want to paddle like a maniac for about fifteen minutes and then let you down so quickly that you peter out immediately thereafter. The effects are even more dramatic for your child. Healthy nutrition gives him the energy, stamina, and strength to navigate the river optimally and consistently so that he can deal with obstacles along the way.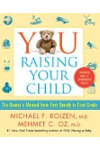 Good nutrition is important for your child's growth and development, not only physically but mentally, as well. Because of the limited capacity of a child's stomach, it is critical that the food you give them be as nutritious as possible. If they fill up on unhealthy foods instead it means they are missing out on nutrients that help them build bones, muscle and heal boo-boos, as well as help them learn and concentrate in school. Even snacks count when dealing with tiny tummies so make them good!
The primary purpose of food is not to fill oneself up, satiate hunger, and satisfy cravings. Proper nutrition is essential for building our bodies. It's the energy used to grow your child's body to adulthood and it's the fuel they need, both to physically get them from place to place, as well as to learn.
Nutrients are the building blocks that grow muscle, support bone density, encourage proper cell development, support immune defense, and develop brain function—all the functions that are necessary to grow your child into a healthy, strong adult.
Without proper nutrition your child will have difficulty learning in school, exhibit poor behavior, be sluggish and have limited energy, or on the opposite end be hyperactive. They may struggle with obesity, or else, be malnourished and fail to thrive. It can affect their sleep patterns, their social development, and their ability to focus and understand what's expected of them. The list is endless, but boils down simply to their ability to function.
Nutrients are found in fresh fruits and vegetables, whole grains, nuts, legumes, fresh properly cared for meats and dairy products.
There's a common misconception that "kid food" is "fun food" and should be enjoyed until one reaches adulthood, stops growing, and therefore needs to eat better to avoid gaining weight. Unfortunately most of the foods we consider "kid foods" are highly processed chemical laden foods that hold little to no nutritional value. Therefore the foods that we're marketing to and feeding our children, are insufficiently supporting their bodies growth and development, as well as promoting a lifetime of poor eating habits.
If you fill a gas tank up with water, it will be full, but it's not going to go—unless armed with the proper nutrition, simply filling our children up, is not going to help them grow.
Unhealthy eating habits have contributed to the obesity epidemic in the United States: about one-third of U.S. adults (33.8%) are obese and approximately 17% (or 12.5 million) of children and adolescents aged 2 to 19 years old are obese.
Even for people at a healthy weight, a poor diet is associated with major health risks that can cause illness and even death. These include heart disease, hypertension (high blood pressure), type 2 diabetes, osteoporosis and certain types of cancer. By making smart food choices, you can help protect yourself and your child from these health problems.
The risk factors for adult chronic diseases, like hypertension and type 2 diabetes, are increasingly seen in younger ages, often a result of unhealthy eating habits and increased weight gain. Dietary habits established in childhood often carry into adulthood, so teaching children how to eat healthy at a young age will help them stay healthy throughout their life.
The link between good nutrition and healthy weight, reduced chronic disease risk, and overall health is too important to ignore. By taking steps to eat healthy, you'll be on your way to getting the nutrients your body needs to stay healthy, active, and strong. As with physical activity, making small changes in your diet can go a long way, and it's easier than you think!
If you want to know why nutrition for youth is so important you just have to look around at the country you are living in.
At no time in our lives has there been more focus on health but at the same time has there been no greater time when we have been so overweight. So why are we overweight? Technology and the way of the world makes us less active and intaking more calories, we are conforming to society, it is learned but it is a choice.
Adults have decided to be less active, be busier and eat more calorie dense foods that are quick and convenient. This is something that is a choice and it is something that is learned. The sad reality is it is not getting better. Adults today have to re-learn and re-think the importance of exercise and watching caloric intake.
If you want to make a difference, if you want to change society then teach your children the importance of exercise and nutrition and they will grow up not not struggling with their weight and esteem and health issues.
Teaching your children to live appropriately is one of the most powerful things you can do to positively have an impact on our world in the future.
Continue Learning about Healthy Eating For Children & Teens