Proper nutrition influences brain development, behavior, and attention span, and it plays a major role in whether your child is at increased risk of obesity, asthma, heart disease, impotence, cancer, blindness, memory loss, and other later-in-life health problems.
Just think about how foods affect your own energy levels: If you don't eat enough of the right foods, you feel so sluggish that it's as if you haven't even put a paddle in the water. And some foods (think sugar) make you want to paddle like a maniac for about fifteen minutes and then let you down so quickly that you peter out immediately thereafter. The effects are even more dramatic for your child. Healthy nutrition gives him the energy, stamina, and strength to navigate the river optimally and consistently so that he can deal with obstacles along the way.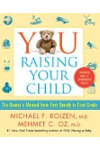 Good Nutrition during childhood sets the tone and patterns for lifelong health and wellness. A well-balanced diet will allow your child to reach his/her full growth potential, perform well in school and maintain their energy level. Visit kidseatright.org to get more up-to-date information on good nutrition for your child and you.
Continue Learning about Healthy Eating For Children & Teens