6 Healthy Party Snacks for Kids
These creative and nutritious bites will be a huge hit with the little ones.
1 / 7
Whether you're throwing a birthday party, cheering on your favorite football team or hosting your child's friends for a sleepover, it's highly likely that if kids are involved, snacks will be a necessity.
Instead of high-calorie, high-fat or sodium-heavy snacks, Medical City's Kids Teaching Kids Program has crafted some much healthier alternatives. These six kid-approved snack options have fewer than 200 calories, seven grams of fat and 15 grams of sugar. Bonus? Each of them have at least one serving of fruits or vegetables. Each recipe serves one, so be sure to double, triple or quadruple (or more!) the recipe if you need additional servings.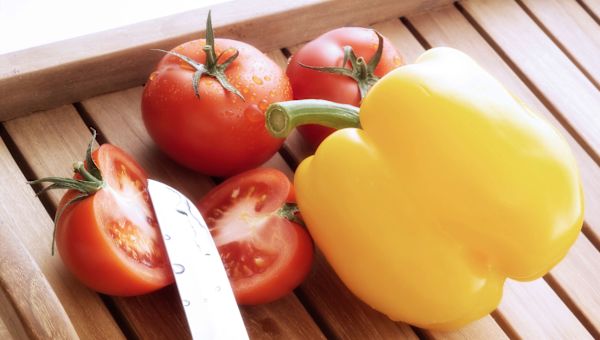 2 / 7
Pizza Bombz
1 5.5-ounce tomato, hollowed out
2 tablespoons shredded, non-fat mozzarella
1 1/2 tablespoon bell pepper, diced
1/4 slice smoked ham or turkey
1/4 teaspoon Italian spices
1/4 teaspoon oregano
pinch salt and pepper
Cut off the top of the tomato then scoop out the inside. Cut the ham or turkey slice into small pieces, then mix the cheese, diced bell pepper, ham and spices together in a small bowl; mix ingredients evenly. Place the mixture of ingredients into the hollow tomato then microwave for 30 to 45 seconds
Calories – 49
Fat – 0 grams
Sat. Fat – 0 grams
Sugar – 3 grams
Fiber – 1 gram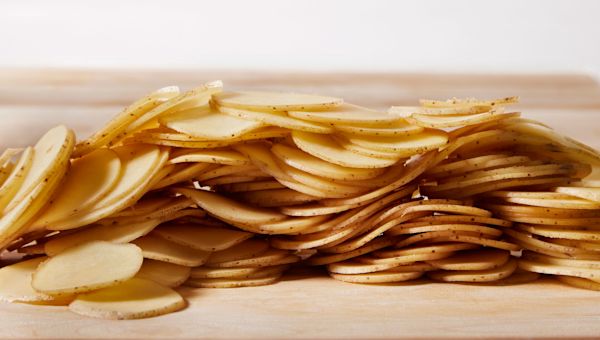 3 / 7
Potato Crisps
1 potato, medium
pinch of kosher salt
1 green onion stalk
2 tablespoon low-fat Greek yogurt dip
Slice potato into thin slices, then microwave slices for two minutes on high. Let cool. Flip slices over, sprinkle with salt and microwave for 1 to 1 1/2 minutes on high, or until crisp. Let cool. Chop green onion stalk, then combine yogurt dip and green onion in small bowl.
Dip and enjoy!
Calories – 140
Fat – 1 grams
Sat. Fat – 0 grams
Fiber – 3 grams
Sugar – 3 grams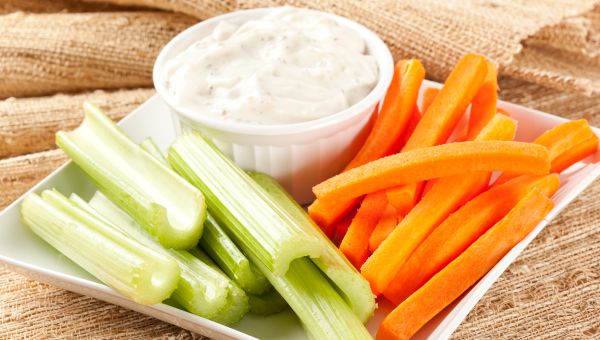 4 / 7
Garlic Herb Dip & Veggies
1/2 cup fat-free cream cheese
1/4 cup buttermilk, low fat
2 tablespoons chives
1 tablespoon parsley flakes
pinch of salt and pepper
12 baby carrots, medium
Combine cream cheese, buttermilk, herbs and seasonings in a bowl. Mix well.
Serve with baby carrots or other favorite veggies.
Calories – 100
Fat – 1 grams
Sat. Fat – .5 grams
Fiber – 2 grams
Sugar – 8 grams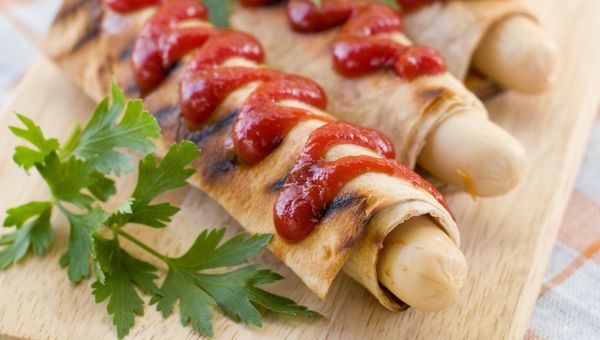 5 / 7
Dawg Wrap
1 low calorie whole wheat tortilla
1/2 slice of 2% American cheese
1/2 cup spinach, fresh, tightly packed
1/2 turkey dog
Spread out tortilla on a plate and add cheese and spinach. Heat hot dog for 15 seconds. Place hot dog on the wrap and heat in microwave for 20-30 seconds. Let cool for 10 seconds, roll up the tortilla and wait 45 seconds until eating.
Calories – 160
Fat – 4.5 grams
Sat. Fat – 1.5 grams
Fiber – 8 grams
Sugar – 4 grams 6 / 7
Apple Tree Buds
1-1/2 tablespoons apple butter
12 dried cranberries or other dried fruit
1 stalk of celery, large, 11-12 inches long
Wash and dry the celery stalk and spread apple butter evenly on the celery. Cut into four equal pieces. Top each piece of celery with pieces of dried fruit.
Calories – 60
Fat – 0 grams
Sat. Fat – 0 grams
Fiber – 3 grams
Sugar – 12 grams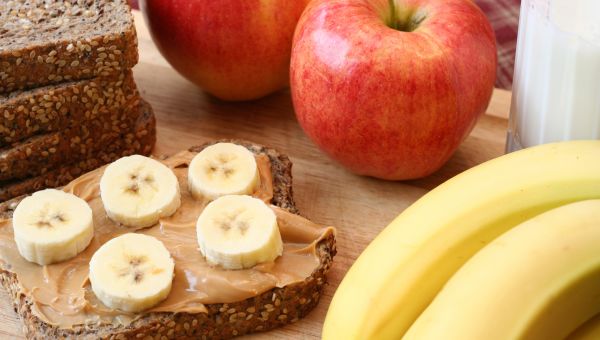 7 / 7
Banana Roll-Ups
1 slice raisin cinnamon swirl bread
2 tsp salted almond butter
1 banana, medium
Toast bread and peel the banana, then spread almond butter onto toast. Place banana on bread slice and roll and secure with a toothpick near each end.
Calories – 120
Fat – 4 grams
Sat. Fat – 0 grams
Fiber – 2 grams
Sugar – 10 grams Replay Slideshow