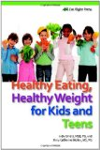 Simply switching from whole milk to low-fat or fat-free milk without making any other changes can help kids shed extra pounds without them noticing. Just do the math:
If your child drinks two cups of whole milk a day and switches to low-fat milk, he would trim 420 calories a week and lose a pound about every eight weeks.
If your teen drinks three cups of reduced-fat milk and switches to fat-free milk, she would trim 630 calories a week and a pound about every five weeks.