7 Things You Haven't Childproofed, But Should
Babies and toddlers can get into more trouble than you might imagine. Learn the household dangers you should watch for, plus how to childproof your home.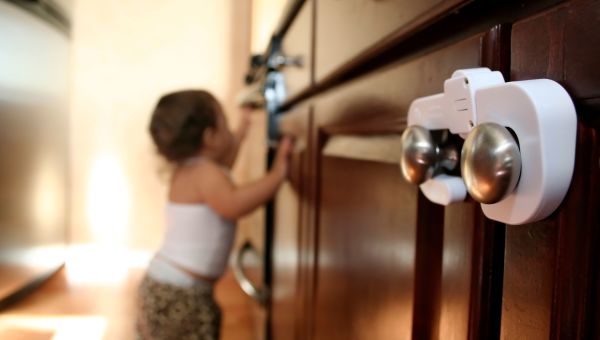 1 / 10
More than 7,000 children and teens in the United States die each year from unintentional injuries, according to a 2021 study in the Journal of Safety Research. To make matters worse, many of these accidental injuries happen at home.
Babies and toddlers can get into more trouble than you might imagine. Some babyproofing tactics are obvious, like covering outlets and securing kitchen cabinets. But what about the less obvious hazards around your home, like dishwasher doors and door knobs?
While it's best to keep your eye on your child at all times, especially when they're young, the reality is you may not always be able to stay a step ahead of them.
Whether you're a new parent preparing for baby, or you have a toddler who just started walking, this checklist can help you keep your home safe.
But be forewarned: your house may never look the same again! 2 / 10
Cabinets and drawers
Storage cabinets and drawers—whether in the kitchen, laundry room or bathroom—are often filled with potentially harmful materials like detergent pods, batteries, medications, disinfectant sprays, and furniture polish, says pediatric emergency medicine doctor Douglas Holtzman, MD, of Summerville Medical Center in South Carolina. In many cases, these products are colorful, shiny, and appealing to a bright-eyed toddler.
Most cleaning solutions are toxic if swallowed or inhaled. "Furniture polish is one of the most dangerous," Dr. Holtzman says. "It's similar to kerosene in composition so if it's inhaled through the lungs, it can be deadly."
Holtzman recommends that you create a single location for all cleaning products, and make sure it's high enough to be out of a child's reach. It's also smart to invest in safety hooks or latches for all cabinets and drawers while your child is in her exploratory stage.
It's possible—regardless of the cabinet's contents—that your child may experiment with opening and closing the cabinets, crawling in the cabinets and pulling up on the cabinets, all of which can also cause injury. 3 / 10
Toilets
Unfortunately, your toilet can appear extremely appealing to a curious toddler. Not only is it possible for your child to inquisitively poke his head in for a quick drink, but he could also fall in and drown.
Always keep your toilet lid down and purchase child toilet locks and latches. Many companies manufacture locks that make it impossible for children to open the toilet lid. If you or other family members are having trouble remembering to keep the toilet seat down, you can try adding a sticky note nearby as a reminder. 4 / 10
Stoves and ovens
Stovetops and ovens can get very hot, and your child runs the risk of being burned if they come into contact with them. Meanwhile, if they're not securely attached to the wall, Holtzman says that small children may actually pull the appliances over on top of themselves.
It's best to keep small children out of the kitchen entirely, but that may not be feasible. It's worth trying to keep children tucked securely in their highchairs when you can, or occupied in their playpens in another room within your view.
Be sure your oven is anchored to the wall so that there is no way for it to tip over. And always be aware of pot and pan handles that extend outward from the stove top—particularly those filled with hot water, food or oil, as these can easily be pulled off by your toddler. It's best to keep pot handles facing inward and use the back burners when you can.
Some other kitchen tips to keep in mind include:
When transporting hot liquids or foods to other areas of the kitchen, always check to make sure your child is out of harm's way.
If you have knobs that can be removed from the stove, do so when you're not cooking.
Make sure all electrical cords are out of the reach of children, so they can't pull other appliances down on top of themselves. 5 / 10
Furniture
While it's impossible to rid your home of necessary furniture, you should be aware that end tables, dressers, coffee tables, china cabinets and chests may have dangerous sharp edges or angles.
Your child could fall or bump into sharp edges, which can cause bruising, cuts or other injuries. Insecure furniture pieces—those that may be prone to tipping—are also dangerous because they can fall over onto your child, especially if your inquisitive child is pulling down on it.
Anchor any top-heavy units to the wall with brackets, braces or straps—your television should be secure, too. For furniture with sharp edges, use bumpers that soften and round out the edges. And don't forget to add bumpers to fireplace hearths and windowsills. 6 / 10
Electrical outlets and cords
Resourceful babies who are crawling and walking are bound to start pulling or chewing on cords and poking their fingers (or other objects) into electrical sockets. This can increase the risk of electrocution and burns.
Make sure you plug up any outlets with outlet covers—that goes for power strips, too—and ensure all cords are tucked away. If you have to use long cords, you can loop the cord and use a zip tie to secure it. If you have outlets with cords plugged into them, buy plastic cover casings to protect the area from little fingers.
New homes may be equipped with tamper-proof outlets, but it's important that you double check they're completely babyproof. 7 / 10
Dishwashers
Dishwashers often contain sharp knives, forks and other utensils. Additionally, certain detergents can irritate the skin and can be poisonous if ingested. The main ingredients in many of these soaps are potassium carbonate and sodium carbonate which, if swallowed, can cause breathing issues if there is burning of the gastrointestinal tract, throat pain and swelling, low blood pressure and stomach or abdominal pain.
Make sure to close the dishwasher if you're not using it, and place forks and knives face down in their basket or tray. Wait until you're ready to run the dishwasher before loading the detergent and try to clean out the compartment after each cycle. 8 / 10
Door knobs
Whether it's a door to the bedroom, bathroom or your front yard, you probably don't want your child wandering into rooms or the great outdoors without your supervision. Swinging doors can also lead to falls and other injuries.
Prevent accidents by investing in doorknob covers and childproof locks for sliding doors. 9 / 10
Curtains and blinds
Curtain and blind cords both pose risk for kids, too. The U.S. Consumer Product Safety Commission says one child a month dies because of a window-covering cord. Children can become trapped in the cords or even wrap the cord around themselves if they become curious or they're not paying attention.
Make sure to tie all window and drapery cords back, or make sure you use safety tassels. And avoid positioning your child's crib or bed near blinds or curtains. 10 / 10
Start early and prepare for emergencies
If you're currently expecting, Holtzman recommends you start babyproofing your home before the baby arrives because it can be easier to identify risky areas when the house is baby-free.
And bear in mind that once you do have a baby in the house, they can start crawling and walking before you know it. "Toys and walkers that teach babies to move and play may have them going even faster than they would otherwise," he says. "They can catch you off guard."
When it comes to prevention, keep your eyes on your little one at all times. And to be prepared in the event of emergencies, make sure you:
Have a landline or cellphone near you at all times, in case you have to call 911 or the Poison Control hotline: 1-800-222-1222.
Learn first-aid techniques, CPR and the Heimlich maneuver appropriate for the age of all your family members.
Keep important phone numbers in an easy-to-locate place, such as inside a kitchen cabinet. Include contact information for doctors, babysitters, local police and fire departments, parents, neighbors and any other friends or family members who may be able to help on short notice.
Map out a fire escape plan and practice it at least twice each year with your family.
Children are going to get bumps and bruises no matter how much babyproofing you do, but taking these precautions can minimize how often accidents happen—and their severity if they do. Replay Slideshow
Slideshow sources
West BA, Rudd RA, et al. Unintentional injury deaths in children and youth, 2010–2019. Journal of Safety Research. 2021. Volume 78, Pages 322-330.
Nemours KidsHealth.org. Childproofing and Preventing Household Accidents. 2022. Accessed April 6, 2022.
National Safety Council. Childproofing Your Home. 2022. Accessed April 6, 2022.
HealthyChildren.org. 5 Bathroom Safety Tips for Infants & Young Children. January 25, 2017. Accessed April 6, 2022.
U.S. Consumer Product Safety Commission. CPSC Warns: Pools Are Not the Only Drowning Danger at Home for Kids - Data Show Other Hazards Cause More than 100 Residential Child Drowning Deaths Annually. May 23, 2002. Accessed April 6, 2022.
HealthyChildren.org. Kitchen Safety. November 6, 2019. Accessed April 6, 2022.
AnchorIt.gov. Accessed April 6, 2022.
MedlinePlus. Automatic dishwasher soap poisoning. April 1, 2022. Accessed April 6, 2022.
Nemours KidsHealth.org. Household Safety: Preventing Strangulation and Entrapment. January 2020. Accessed April 6, 2022.
Poison.org. Accessed April 6, 2022.