Lack of shuteye can not only cause you to drag at the office but also in the bedroom. Fatigue can lead to erectile dysfunction (ED), the inability to get and maintain an erection during sex. Not logging enough sleep can lead to chronic fatigue, which wreaks havoc on your body. Your energy levels dip, lowering your desire for sex. Put simply, your body is too darn tired to sustain an erection. If you are having problems with fatigue and sex, see your doctor. Your tiredness might be a sign that you have a serious health condition, such as high blood pressure or diabetes.
To have an erection with sex, different body parts must work together, including your brain, central nervous system, heart, arteries, and penis. Is it any wonder that fatigue can interrupt an erection? When fatigue causes chronic or long-term erection problems, it's called erectile dysfunction (ED). I'm not talking about staying up too late one night, and not being able to have sex with your partner when you both want to. That happens to every guy once in a while. But if you are always tired, and can't get or keep an erection that's rigid enough to have sex more times than not, it's time to talk to your good doc. You may have an underlying health condition that's causing both your fatigue and your problems in the sack. Discovering more about that problem and getting it treated can make you (and your partner) feel a whole lot better!
Continue Learning about Erectile Dysfunction Causes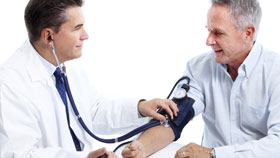 Erectile dysfunction (ED) can have several causes. Erectile function involves a complex relationship between neurologic, vascular, hormonal and psychological components. Speak with your doctor to determine whether your ED may be c...
aused by poor circulation, diabetes, obesity, smoking, medication side effect or stress and anxiety.
More