Influenza, or the flu, is a viral disease of the respiratory tract—the nose, throat, bronchial tubes and lungs. The flu is highly contagious and is spread though airborne droplets of moisture produced when someone with the flu coughs or sneezes. When you breathe in these germs, you may come down with the flu, generally within one to four days of being exposed.
Flu symptoms usually develop three to four days after being exposed to the flu virus. The typical incubation period for the flu virus is one to four days (two day average) with onset of illness from transmission usually occurring in three to four days in the average healthy adult.
Continue Learning about Cold and Flu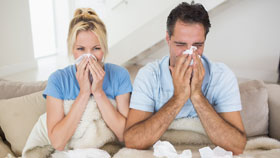 Colds and flu are both viral infections, but have different symptoms. With a cold you will have symptoms such as a runny nose or a sore throat. Flu symptoms come on suddenly and may include fever, body aches or vomiting. While the...
re is no cure for either, there are treatments -- chicken soup, nasal sprays, rest -- which can help your feel better.
More