If you're pregnant, see a doctor within 24 hours if you have:
Been in contact with someone diagnosed with the flu
Flu symptoms, including body aches and a fever greater than 100.4 F
Call or see your doctor even if you have had the flu shot. Having a fever early in pregnancy increases the chances that your baby will be born birth defects or other health problems. Also, your doctor can prescribe antiviral medicine within the first 48 hours of the start of your symptoms.
If you are pregnant, you should call your healthcare provider immediately if you have flu symptoms to determine if you need to be seen. Don't guess about what's causing your symptoms. Ask your healthcare professional for guidance.

Report any of the following symptoms right away: difficulty breathing or shortness of breath, pain or pressure in your chest or abdomen, sudden dizziness, confusion, severe or persistent vomiting, decreased or no movement of your baby or a high fever that doesn't respond to medication recommended by your healthcare professional.
Continue Learning about Cold and Flu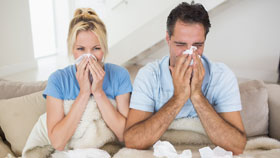 Colds and flu are both viral infections, but have different symptoms. With a cold you will have symptoms such as a runny nose or a sore throat. Flu symptoms come on suddenly and may include fever, body aches or vomiting. While the...
re is no cure for either, there are treatments -- chicken soup, nasal sprays, rest -- which can help your feel better.
More