Eczema causes itching and dry skin that can turn into scales and cause a change in skin color. The changes should not be permanent. Eczema occurs most often on the arms and behind the knees, but it can appear anywhere on the body. It typically appears for a while and then goes away with proper treatment. Symptoms include extremely itchy patches that can become red, swollen, or cracked when scratched. Excessive scratching can damage your skin and cause infection. Consult a dermatologist for more information.
Continue Learning about Eczema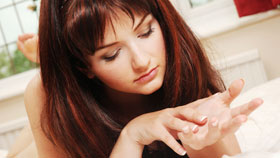 Eczema is a chronic allergic skin disorder that runs in families, resulting in red patches of skin that become extremely dry, itchy and irritated. Learn more about eczema from our experts.